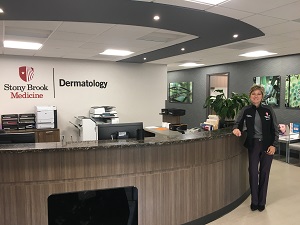 Stony Brook Dermatology
1320 Stony Brook Road
Building F, Suite#200
Stony Brook, NY 11790
(631) 444-4200
Map & Directions
Advanced Specialty Care
500 Commack Road
Commack, NY 11725
(631) 444-4200
Map & Directions
Visit Website
Outpatient Appointment Hours
Medical Dermatology
Monday: 8:30 am - 5:00 pm
Tuesday: 8:30 am - 5:00 pm
Wednesday: 8:30 am - 5:00 pm
Thursday: 8:30 am - 5:00 pm
Friday: 8:30 am - 5:00pm

MOHS SURGERY
Monday - Friday 8:00am - 3:00pm
The office is open daily from 9:00am - 5:00pm with voicemail available for incoming calls during lunch from 12:00pm - 1:00pm
How To Make An Appointment
To make an appointment you can either call us @ 631-444-4200 and selecting option 1 or request an appointment online.
Accuracy of your demographic information is paramount so please be prepared to provide all of your most current data for the receptionist to ensure precision in the scheduling of your appointment.
What We Will be Asking For
We are eager to help you and in order for us to deliver quality service we will need some important information from you:
A completed New Patient Form. You can either fill this out in our office at your first visit, or click here to download and print the form ahead of your visit to bring with you.
A brief description of the reason for your visit
Whether this is the first time you've been to SBU Dermatology
How you were referred to the practice and whether you were referred to see one of our faculty specifically
If not, whether you have a gender preference for ultimate comfort
Your insurance coverage so that we can schedule you with a provider who is participating in your plan coverage
Please have your insurance information available when you call. Although our physicians participate in most managed care plans, there are some insurance plans that we are not participating with as a group . If your insurance carrier requires an authorization or referral, it is your responsibility to obtain proper authorization prior to your visit. Our staff will provide you with your physician's ID# to facilitate the referral process for your primary care physician (PCP). We strongly recommend patients to call our office @ 631-444-4200 the day before their visit to confirm that we have received the appropriate referral. Patients who come to their scheduled appointment without the requisite referral/authorization on file will either need to self-pay or to reschedule
Preparation Checklist
In order to make the most of your appointment we suggest you bring the following items with you:
Copies of medical records e.g. biopsies or lab tests
A written summary of your medical history, list of medications, allergies and your symptoms
The names, addresses and phone numbers of all physicians with whom you wish us to communicate
Your insurance card so we can make a copy for your medical record
If needed, your referral or approval number in hand to avoid unnecessary delays in arriving you
Your co-payment responsibility (all forms of payment are accepted) that is due the day of your appointment
Directions
You can obtain directions by calling 631-444-4200 and selecting option 4 at any time
What To Expect During Your Visit
If we have not emailed, faxed or mailed your new patient registration package ahead of time, please arrive 15 minutes early to complete your paperwork and register your account with the billing office
We appreciate that your time is valuable and that you may have a busy schedule so we have created opportunities to add value by saving you time in the office
We offer every patient the option of receiving required paperwork ahead of time via several methods so that you can complete them at your leisure and come prepared
Our billing office offers every new patient an opportunity to register with them the day before the scheduled appointment. We provide this convenience by proactively calling in advance to offer this time-saving option. It is strongly recommended that patients pre-register; this will facilitate your appointment by 10-15 minutes!
Check in at the front desk to notify the staff of your arrival so that we can prepare your chart and ensure your referral requirements are in order
Insurance and Billing Issues
In general, commercial insurance and point of service (POS) plans do not require prior approvals. However, many managed care companies require written/electronically submitted authorizations either from the company or from your primary care physician.
If you are unsure, PLEASE check with your primary care physician or insurance carrier to determine whether you require a referral under your particular policy. It is the responsibility of each patient to obtain any referrals/authorizations prior to his/her visit. We strongly recommend you have your referral faxed to our office at 631-638-4220 in advance of your appointment to ensure a seamless check-in.
Patients are responsible for co-payments at the time of the office visit. In addition, patients will be responsible for any deductibles and payments for services that are not covered by the insurance plan(s) and services that the insurance company deems to be "not medically necessary."