Skin Cancer Screening: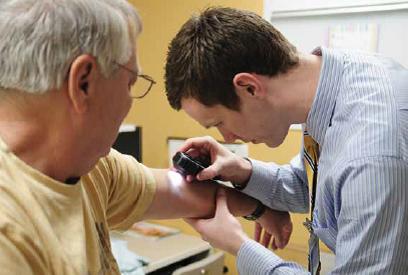 Skin cancer is one of the more preventable types of cancer with more than 90 percent caused by excessive exposure to the sun. Melanoma is a type of skin cancer that is common and can be deadly. About 91% of melanoma cases diagnosed in the U.S. between 2011 and 2015 can be attributed to ultraviolet radiation exposure, with that number rising to 94% when it comes to non-Hispanic whites, according to a new study in the International Journal of Cancer.
Fewer skin cancer screenings during the COVID-19 pandemic may have led to delays in the diagnosis and treatment of nearly 20,000 melanomas, according to a study published in the Journal of the American Academy of Dermatology. In this CBS-TV clip, Dr. Adrienne Haughton in the Department of Dermatology and a Stony Brook Medicine patient discuss sun safety measures, screenings and skin cancer prevention.
Who should be screened for melanoma? 
People should be aware of their skin and look for any changing moles on a daily basis, this is called a 'self-screen.' People who don't have any history of skin cancer should have a total body skin examination annually by a physician. 
Typically, patients diagnosed with melanoma are seen by a dermatologist every three months for the first year, every six months during years two through five, and annually thereafter. 
There are no risks to screenings! Ignoring a potential ugly duckling increases risk. 
What should I do if I spot an odd-looking mole?
If a spot looks unusual it is recommended an appointment be scheduled with a board-certified dermatologist who has a trained eye to identify whether it is benign or suspicious. Often a biopsy is performed to diagnostically rule out a malignancy or properly identify and diagnose what it is for appropriate assessment and planning of treatment.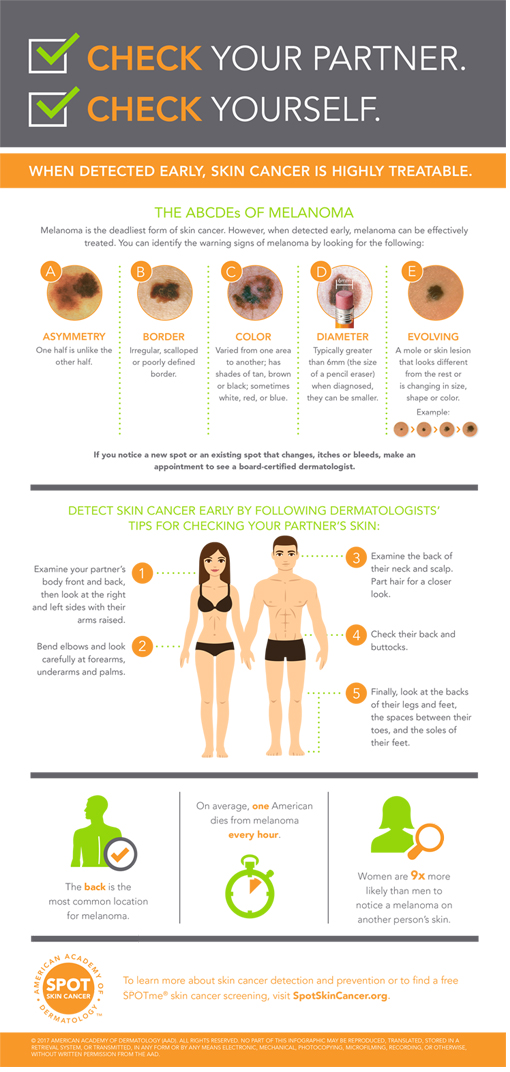 Click to view on the American Academy of Dermatology Association's website
Who has a higher risk of skin cancer? 
Anyone can get skin cancer, but some things put you at higher risk. 
Sun exposure is by far the most common risk factor, with unprotected skin potentially being damaged by the sun's ultraviolet (UV) rays in as little as 15 minutes. 
If you have a family history of melanoma, you are likely at a higher risk and should see a dermatologist. Likewise, if you have been diagnosed with melanoma, your 1st degree family members should be screened. 
What does a skin screening consist of?
Patient skin screenings are a precursor for raising awareness, providing expert advice, and making recommendations for further evaluation when indicated. 
Based on the patient's request, a dermatologist will perform a total body, an upper body or a lower body examination. This exam can be done with or without the aid of a device called a dermatoscope and is an initial survey of any suspicious lesions that warrant further evaluation. 
Patients are provided with a list of local dermatologists along with helpful educational materials to improve skin smarts. 
What to look for during self-skin checks?
Melanoma can occur anywhere on the body but is most common on the upper back, torso, lower legs, head, and neck. It can present in unusual locations such as the nails, scalp, feet, or ears.  
It may suddenly appear without warning, but it also can develop from or near an existing mole.
Because melanoma may spread to lymph nodes and internal organs, early detection and treatment are essential.
New, rapidly growing moles, or moles that change, itch, or bleed are often early signs of melanoma; these should be examined by a board-certified dermatologist. 
How to protect yourself from the sun: 
Sunscreen should be worn every single day. 
The sun's rays are strongest between 10am and 2pm. If your shadow is shorter than you are, seek shade!
A sunscreen with at least a sun protection factor (SPF) of 30 is adequate, but a higher SPF is better in case not enough is applied. 
About one ounce of sunscreen is sufficient for an adult application. 
Sun screen should be reapplied at least every two hours and immediately after swimming or excessive sweating.
Wearing sun-protective clothing such as long-sleeves, pants, wide-brimmed hats or clothing products such as Coolibar, are an excellent way to enjoy outdoor activities more safely.  
Tanning beds should be avoided – there is no such thing as a safe tan!