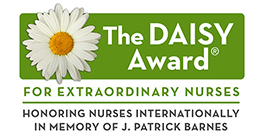 Want to Say Thank You to Your Stony Brook University Hospital Nurse?
Share your story of compassionate and skillful nursing care and nominate your nurse for the DAISY Award.
Scan the QR code to access the online nomination form.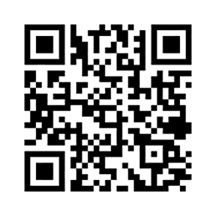 The DAISY (Diseases Attacking the Immune SYstem) Award is an international recognition program that honors and celebrates the skillful, compassionate care nurses provide every day. The DAISY Foundation was established by the family of J. Patrick Barnes after he died from complications of the autoimmune disease ITP in 1999. During his hospitalization, they deeply appreciated the care and compassion shown to Patrick and his entire family. When he died, they felt compelled to say "thank you" to nurses in a very public way.
Thank you for taking the time to recognize the extraordinary nursing care you experienced or observed.
---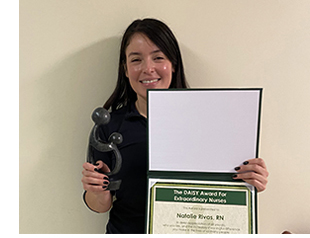 Natalie Rivas, RN, Medical Intensive Care Unit (MICU), is the October DAISY Award recipient at Stony Brook University Hospital. Natalie was nominated by the wife of a patient who had experienced complications as a result of his cancer diagnosis and previous stem cell transplant.
The patient's wife is a nurse herself but was not prepared to be on the other side of a medical crisis impacting her husband. Natalie recognized that both the patient and his wife were scared, and she helped to calm their fears and keep them both informed each step of the way. She would call the patient's wife in the evening to provide her with updates and help to reassure her once her husband was placed on a ventilator. This patient was in the MICU for two weeks, and Natalie sought out the patient and his wife even when she wasn't the patient's primary nurse to give them both encouragement and offer any assistance.
Unfortunately, the patient passed away in hospice, but the patient's wife stated, "There isn't much I care to remember about that last hospital stay, but I will never forget the compassionate care that my husband and I received from his wonderful nurse Natalie, and I will always be grateful that she came into our lives at this time."
---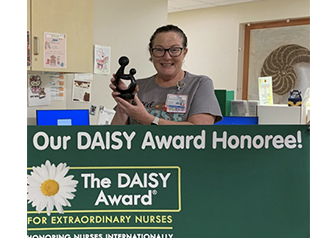 Nancy Russell, RN, Pediatric Acute, is the October DAISY Award recipient at Stony Brook Children's Hospital. Nancy was nominated by a parent of a former patient as well as her co-workers who all shared how Nancy provides all her patients and their families with care and compassion. The nomination submitted by the patient's mother stated, "Nancy held my son's hand during a difficult time after surgery. It was a tough situation, and he was in excruciating pain. Nancy reassured him and kept talking to him. She held his hand the entire time. She immediately gave him pain medication he needed."
Nancy's co-workers wrote, "Nancy constantly goes above and beyond to connect with her patients and their families. She is often found in a patient's room chitchatting and giving tons of advice — both medical advice and life advice. She is warm, engaging, encouraging and respectful. She often goes above her call as a bedside nurse to that of an amazing human and friend. Nancy's goal each shift is to not only take care of each of her patients each day to the best of her ability, but to make sure they are as happy and as comfortable as possible."
One story submitted tells of Nancy's compassion and care when a mother ran to Starbucks to get a much-needed cup of coffee. Mom was thrilled to be able to step away from the bedside, take a walk by herself and get a big cup of caffeine. As soon as the mom returned to the patient's room, she dropped the entire cup of coffee all over the floor. Nancy not only helped the mom clean up, but promptly ordered the mom a brand-new coffee exactly to her liking and hand delivered it to her. The patient's mom broke out in tears over the level of support and sympathy Nancy offered to her.
---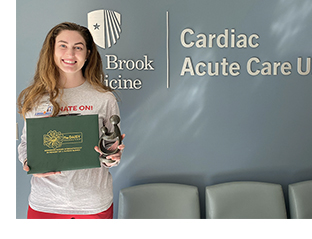 Sarah Klecher, RN, Cardiac Acute Care Unit, is the September DAISY Award recipient at Stony Brook University Hospital. Sarah cared for a patient who was at the end of her life and was nominated by the patient's daughter. The daughter was grateful to Sarah who prepared her mother's room for the entire family to be with the patient, making sure she was comfortable and treated with dignity. Sarah stayed with the family during the patient's final moments on this earth and then comforted the patient's daughter, who reassured Sarah that she had done all she could for her mother. The patient's daughter wrote, "I cannot fully express the gift it was to have Sarah with my mother and all of us."
Sarah started her career at SBUH as a volunteer. She was then hired as an employee in Transport and then a nursing assistant while attending nursing school. Sarah graduated last year as an RN and serves as a wonderful example of what can be achieved as an employee at Stony Brook.
---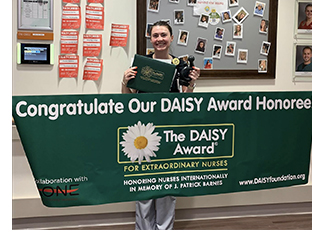 Shannon Sweeney, RN, Pediatric Intensive Care Unit, is the September DAISY Award recipient at Stony Brook Children's Hospital. Shannon was nominated by a parent of a former patient in the PICU who shared how Shannon provided her son and their family with kindness, support and compassion during their recent hospitalization at Stony Brook Children's Hospital. In her nomination, the patient's mother wrote, "Shannon has taken care of both my son and daughter in the ICU. She has helped my son feel safe and cared for when he was at his most vulnerable state after each of his seven brain surgeries in the last year. It was impressive to watch her work and maintain my daughter's level of care when she was on life support."
Describing Shannon as focused, quick and meticulous with every detail, she also noted, "We trust our children are in the best of hands with Shannon, and we feel heard and supported as parents in the most challenging situations and feeling the most helpless."
---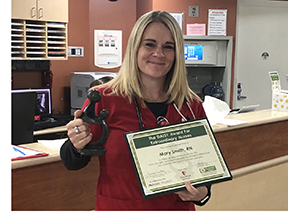 Mary Smith, RN, 17 North/Surgical ICR, is the August DAISY Award recipient at Stony Brook University Hospital. Mary was nominated by the granddaughter of a former patient who shared the story of how Mary provided compassionate and competent care to her 90-year-old grandmother. Mary advocated for this patient when she couldn't advocate for her herself, which was a great relief to the family when they were not at the hospital.
The family also commented on how Mary treated their grandmother with much respect and that Mary's "bright personality" picked up the spirits of their grandmother. Mary made her day by dancing with her while helping her out of bed since dancing is a favorite activity of the patient. The family expressed how lucky and grateful they were to have Mary as their grandmother's nurse.
---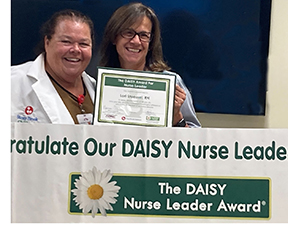 Lori Stoessel, RN, Nurse Manager, Pediatrics and Pediatric Oncology Units, Stony Brook Children's Hospital, was selected as the recipient of the 2023 Nurse Leader DAISY Award. The DAISY Nurse Leader Award recognizes nurse leaders who are extraordinary in the impact they have on compassionate patient care. Nurse leaders role model extraordinary behavior and create an environment where attributes of trust, compassion, mutual respect and continued professional development are modeled and supported. The nurse leader motivates staff with a shared vision and enthusiasm to achieve better outcomes for themselves and their patients.
Lori was nominated for this award from her staff as well as from her colleagues. She is described as a hands-on leader, a role model, honest and fair. One nominee said, "Lori motivates her staff to be the best they can be for themselves individually (mentally, emotionally, physically, etc.) while also promoting continued professional development." Another nominee wrote, "Lori is always looking to make the patient experience better for the patients and their families. She leads patient-driven and unit-driven initiatives though input from the bedside staff and the families when she rounds daily." Her staff stated, "Lori is an outstanding nurse leader who deserves every recognition there is to be had!"
---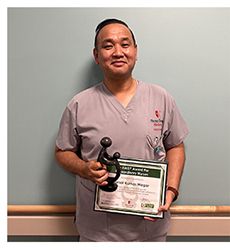 Tomal Kumar Magar, RN, is the July recipient for the DAISY Award at Stony Brook University Hospital. Tomal was nominated by one of his patients in the NICR unit.
In the nomination, the patient noted how much Tomal cares for his patients and described him as very positive, friendly and energetic. The patient also wrote, "Tomal made me feel so important and made me realize how much he cares about humanity. Not just his patients — also his patients' family."
She went on to describe his caring nature by writing, "He answered me and gave me so much support about my medical condition. I learned a lot from him. He is very sweet, caring and a very traditional, respectful nurse … We need nurses like him." Congratulations, Tomal!
---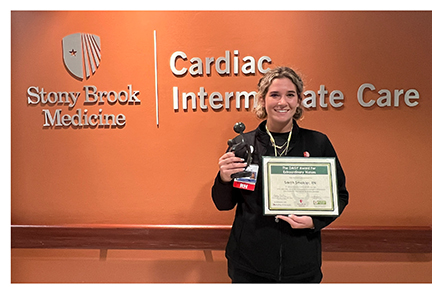 Sarah Smokler, RN, Named First Hospital-Wide DAISY Award Recipient for Stony Brook University Hospital
Stony Brook University Hospital recently introduced the DAISY Award for Nursing Excellence and recognized Sarah Smokler, RN, 16 South/Cardiology as the first hospital-wide Stony Brook University Hospital recipient in June 2023 for the outstanding care and compassion she displays to her patients. She was nominated by a former patient who shared a story of how Sarah provided her with kindness and support during an anxious moment during her hospitalization.
The patient commented on how Sarah carefully explained the procedure she was having and the medications that she was taking and would check in on her regularly to make sure she wasn't in pain. Sarah spent time listening to the patient and was attentive. The patient felt like this encounter made her hospital stay positive and a healing experience, because she felt that Sarah cared about her as a person not just a patient. Congratulations Sarah!
Stephanie Tocci, RN, Named the 16th Daisy Award Recipient for Stony Brook Children's Hospital
Stony Brook Children's Hospital, which has been recognizing nurses with the DAISY Award since 2019, recently honored Stephanie Tocci, RN, Labor Delivery, with the 16th DAISY Award for Nursing Excellence for the outstanding care and compassion she displays to her patients. She was nominated by a former patient who shared a story of how Stephanie provided her with kindness, support and compassion during her delivery at the hospital.
The patient stated, "From the moment Stephanie walked into her shift at 7 pm and introduced herself, she was full of light — friendly, happy, caring, compassionate and reassuring.
"Stephanie made her mark on my heart and life forever. She was the one who took care of me and offered me guidance and support in my first hours as a mom, and I am forever grateful." Congratulations, Stephanie, for being the DAISY Award recipient for the month of May!