Suffolk County police officer's life saved by trauma, vascular teams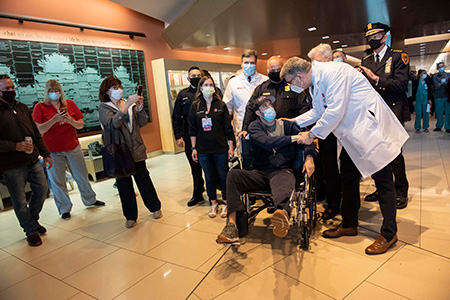 Dr. James Vosswinkel was having dinner with his family on a quiet Saturday night when a fateful call came, setting in place a series of events that saved the life of a Suffolk County police officer.
Officer Christopher Racioppo had been stabbed in the leg after stopping a driver on suspicion of Driving While Impaired after the driver had caused a car crash. Chris's femoral artery had been severed, and he was bleeding severely. Time was critical.
Two good Samaritans stopped and confronted the assailant while his fellow officers at the scene worked to control the bleeding. Guillermo Sandoval, a retired Marine who lives near the accident scene, came to the police officers' aid and helped to tie a tourniquet to stop the bleeding. Then the officers made a vitally important decision – not to wait for an ambulance, but instead to transport Chris immediately via police car to the closest hospital.
Every step in the initial chain of events was "beyond important for his recovery," Dr. Vosswinkel said, calling what was done at the scene to stem the bleeding "miraculous." When he arrived at Long Island Community Hospital, Chris received an immediate transfusion of blood products.
"When I first met Chris at Long Island Community Hospital, I was truly concerned he wasn't going to make it," he said. "Chris essentially had bled out his entire blood volume. Chris was in the most severe form of shock, and he literally had minutes before his cells shut down. And despite everything that modern medicine can do, unfortunately when one crosses that threshold, we can't save them."
Then Chris was transferred to Stony Brook University Hospital, where the trauma and vascular teams were already in place to perform emergency surgery, thanks to the early alert from Dr. Vosswinkel, who serves as Chief of the Division of Trauma, Emergency Surgery and Surgical Critical Care at the Renaissance School of Medicine at Stony Brook University.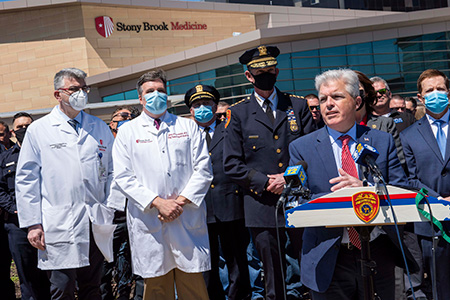 "When I received the call from Dr. Vosswinkel – as the situation was clearly described, this was a critical life-threatening and limb-threatening condition – we notified our vascular team," said Apostolos Tassiopoulos, MD, Interim Chair of the Department of Surgery and Chief of the Division of Vascular and Endovascular Surgery at Renaissance School of Medicine. "Thankfully, we have a state-of-the-art Hybrid Operating Room facility for situations like that."
The vascular team was able to control the bleeding and repair the artery by placing a stent, Dr. Tassiopoulos said. Then the focus shifted to saving his leg and its functionality.
"I want to give my praises to Dr. Vosswinkel for two things," said Dr. Tassiopoulos. "The immediate management of Officer Racioppo and the non-delay in his transfer to a facility that could handle his injuries are the only reasons that we have the outcome that we have today."
Chris was on a ventilator for 10 days due to pulmonary complications from shock, Dr. Vosswinkel said. He was on medications for four days to keep his blood pressure up. Four major muscles in the top part of his leg were cut in half, and he suffered a great deal of pain.
But once he completes a long regimen of physical therapy, Chris is expected to make a full recovery, Dr. Vosswinkel said. His recovery no doubt is being helped by having his fiancé, Brittany Cunningham, at his side around the clock. Brittany works as an intensive care unit nurse at Stony Brook University Hospital.
"The fact that we are here today – a little more than two weeks after Officer Racioppo engaged in his heroic actions, suffered a life-threatening attack, and lost essentially all of his blood – the fact that we are here just two weeks nearly, a little more than two weeks after that, and seeing him leave his hospital, on the road to recovery, is really nothing short of a miracle," said Suffolk County Executive Steve Bellone on April 26, when Chris was discharged from the hospital. "It is a miracle."
"But it didn't happen by accident," Bellone said. "It happened because of the actions of Suffolk County Police Officers, of emergency responders, the incredible team here at Stony Brook University Hospital. We thank the team at Long Island Community Hospital. Because of their actions, Officer Racioppo is alive today."
In a written statement before leaving the hospital, Officer Racioppo said, "I am happy to be going home and will now begin the road to my long recovery.…  I want to thank the Long Island Community Hospital ER staff, Dr. Vosswinkel, Medical Director and head of Stony Brook Trauma Surgery, and Dr. Tassiopoulos and his vascular team. A special thanks to the Stony Brook Hospital's SICU staff, respiratory staff and physical therapy staff for my recovery. And thank you to the Suffolk County PBA, NYPD, my family, friends and my fiancé, Brittany Cunningham, for all their support."
"We almost lost Officer Racioppo," said Suffolk County Police Commissioner Geraldine Hart. "If it wasn't for the quick thinking of his fellow officers and two good Samaritans and the care that he received at Stony Brook University Hospital, we might not have had this opportunity to watch Officer Racioppo leave the hospital and continue his recovery at home….
"I want to thank everyone who has been integral in Officer Racioppo's treatment and care. I want to thank the officers and good Samaritans who gave him a fighting chance on that fateful day. And I want to especially thank the doctors and nurses here at Stony Brook Hospital.
I cannot express our heartfelt thanks on behalf of the men and women of the Suffolk County Police Department," Commissioner Hart said. "We will be forever grateful."