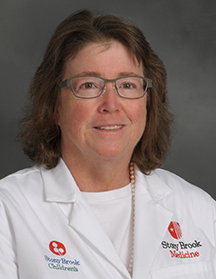 Margaret M. McGovern, MD, PhD, is the Knapp Chair in Pediatrics and Dean for Clinical Affairs at the Renaissance School of Medicine at Stony Brook University and Vice President for Clinical Programs and Strategy for Stony Brook Medicine.
Dr. McGovern is a Distinguished Alumnus of Stony Brook University and earned her medical and doctoral degrees at Mount Sinai School of Medicine, where she was elected to the Alpha Omega Alpha honorary society, followed by residency training in pediatrics and fellowships in clinical genetics and clinical molecular genetics at Mount Sinai Hospital.
After completion of her training, Dr. McGovern joined the faculty at Mount Sinai where she was Professor and Vice Chair of Genetics. She also was the Program Director of the NIH-funded General Clinical Research Center.
In 2007, she became Chair of Pediatrics at Stony Brook University School of Medicine (now the Renaissance School of Medicine at Stony Brook University), where she led the marked expansion of the clinical, education and research programs of the department, including the construction of the new Stony Brook Children's Hospital, which opened in 2019.
In her current roles, Dr. McGovern is leading the Stony Brook Medicine Clinically Integrated Network, which includes initiatives to ensure high-quality care is delivered in the most appropriate setting.
About Stony Brook Medicine:
Stony Brook Medicine integrates and elevates all of Stony Brook University's health-related initiatives: education, research and patient care. It includes five Health Sciences schools — Dental Medicine, Health Technology and Management, Medicine, Nursing and Social Welfare — as well as Stony Brook University Hospital, Stony Brook Southampton Hospital, Stony Brook Eastern Long Island Hospital, Stony Brook Children's Hospital and more than 200 community-based healthcare settings throughout Suffolk County.