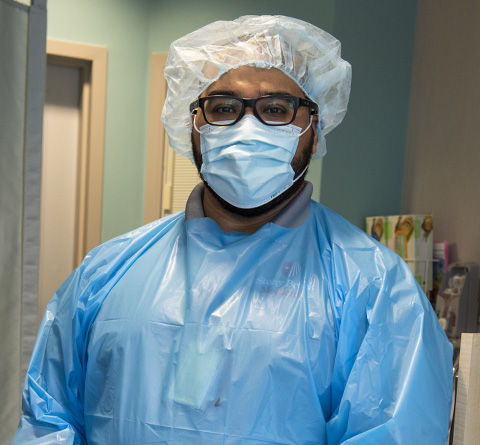 Susan Wilner
I oversee operations for behavioral health at Stony Brook, Eastern LI, and Southampton Hospital, as well as our ambulatory sites. I help to operationalize new initiatives and maintain regulatory compliance, as well as come up with new ways to deliver services and improve access throughout the system. And when COVID hit, that meant telemedicine. It's actually something I'd been working on for a while, but it went into warp speed with the pandemic. Telemedicine has always been important in order to help improve access to healthcare. COVID really highlighted the inequities in healthcare, but telemedicine is helping us to bridge some of those gaps. Part of our telemedicine efforts included giving tablets to our COVID units so providers could do virtual consults with patients who were positive for the Coronavirus. iPads were also given to patients so they could talk to their families outside of the hospital. We have also worked collaboratively between our hospitals to help bring services to where the patients are, but the services may not be. Most recently we began doing psychiatric evaluations on patients at Southampton Hospital from our providers at Stony Brook University Hospital in an effort to save the patients from having to take an ambulance trip from out East all the way to Stony Brook. This is helped us to provide even better care and a better patient experience to all of our patients, regardless of where they are located.
I still continue to do this work, but I now also spend a lot of time leading vaccine PODs here. This is the first time in a year that I've felt like I'm part of the solution. Up until this point, I've felt like I have been helping others to work, live and just simply function in a pandemic. But now, I feel like I'm helping us to get to the other side of this. It finally feels good.
Susan Wilner, LCSW
Assistant Director, Behavioral Health Services Operations
Jessica Marangio
Prior to COVID, I was an assistant director of nursing for adult inpatient Psychiatry. I did daily management of our adult inpatient Psychiatry unit and oversaw our nursing staff. Fast forward to the pandemic, where a lot of our patients were staying home and our unit census was as low as I'd ever seen. We needed to shift focus. We rounded in other units, which was very different for many. We were used to taking care of our own patients, and suddenly we were setting out to help our colleagues. As we continued rounds, we began to see a need and felt the pulse of the hospital - we saw a lot of sadness, exhaustion, and anxiety. We know the effects of trauma on a person's mental health, and this was traumatic. We wanted to do more. We organized a fundraiser to make wellness baskets for every unit with calming activities, essential oils, teas, and snacks. We were then able to open an Employee Respite Area on 12 North, staffed 24-7 by our Psychiatric nurses who provided support, a calming environment, mindfulness activities, aromatherapy, meditation, a place to rest, snacks and beverages. We had over 19,000 visits to the area between April and July 2020.
I've since taken a position at Stony Brook Eastern Long Island Hospital to oversee inpatient and outpatient Behavioral Health services, but I can't stress enough how important it still is to be careful. Wear a mask. Don't gather in large groups. It's just too soon. We really need to stay vigilant.
Jessica Marangio, MSN, RN, PMH-BC
VP Behavioral Health Services
Stony Brook Eastern Long Island Hospital
Amanda Waldeck
It's been obstacle after obstacle but at the same time it's been really empowering to see peoples' resilience and how we've been able to adapt to all types of situations throughout the year. We've all adapted to this new norm of being overwhelmed. We are stretched so thin. We've all been pulled from our normal roles, which some days is harder than others, but we're doing the best we can. Sometimes you're juggling three roles at the same time, but it's comforting to know that you're helping and it's for the greater good. I'm grateful to have the opportunity to do anything I can to help move forward and get past this together.
Amanda Waldeck
Clinical Pharmacist, Pediatrics
Barbara Mills
Everybody is tired. A lot of people thought we would have already cured COVID so we can all move on. But it's not over. Our heroes - the essential workers who continue to sustain this momentum of work - are still working hard every day. Our rapid response team, in particular, is trained for this sort of thing. But even we needed to get creative. We are rescuing patients who get into trouble across all service lines throughout the hospital every day, as well as now caring for patients who have tested positive for COVID-19. In fact, our team is integral when it comes to intubating patients in COVID units. We even developed a plan when the pandemic first hit to work with respiratory therapists and anesthesiologists to safely intubate COVID-positive patients while limiting exposure to patients and staff.
I never thought I would see anything remotely related to a pandemic in my lifetime. But here we are. And the spread is more rapid now than ever before because people weren't going anywhere during the quarantine. That's not really the case anymore. But we are still here - taking care of our families and yours. We are not giving up. This has been traumatic for a lot of healthcare workers, especially those who had never worked, nor planned to work, in a critical care setting. But we're doing what we need to do.
Barbara Mills, DNP, ACNPC, ANPC, PNP, CCRN, PCCN
Senior Nurse Practitioner
Clinical Assistant Professor School of Medicine
Director Rapid Response Team/Code Resuscitation
Director of Nurse Practitioners
Collette Castiglione
Our unit specializes in renal care, so we see patients before and after procedures; we prep them for surgeries; we take them for dialysis, endoscopies; and so on. Every now and then we have a rapid response situation, but that doesn't happen very often. Well, it didn't. But everything changed when the pandemic hit. I'd say the biggest change in our unit is how we approach patient care. We needed to limit exposure for ourselves and our patients, so instead of a bunch of people in and out of rooms multiple times throughout a given day, we would - and still do - cluster our care. I gear up from head to toe. I wear a gown, gloves, a mask, face shield, and a hair covering. Then, I enter a patient's room and begin. Bathing, feeding, cleaning, taking vitals. Oftentimes, we spent two hours straight with one patient, which can be a lot when you have four, five, or more patients to care for. Even the vibe has changed on our floor. Patients used to be able to leave their rooms, walk around, and see their families. None of those things are happening right now.
When the pandemic first hit, everybody seemed to be in the hospital for COVID. It was Coronavirus all day, every day. Now, people are once again coming in for other medical reasons, as well, and some just happen to be COVID-positive. So in some ways, it's even more complicated because care and treatments aren't as streamlined. There is so much more going on, and to be honest, it's exhausting. It's so easy to burn out, and it's not uncommon for people to put their mental health on the back burner. But it's important to take care of ourselves in order to take care of others. What I will also say is that even though it's still so scary, we know a lot more this time around. We now have knowledge and tools to tackle this second wave, and that makes me hopeful.
Collette Castiglione
16N, Med/Surg Telemetry Unit
Damaris Torres
One day, in the height of the first wave of the pandemic, I prayed to God in the hospital parking lot. I asked him to come to us and to help us. I then proceeded to walk into work and turned to my patients and colleagues and said, "Today, we are celebrating life! We need to be happy for today!"
My job is to help patients with whatever they need. Taking their vitals, drawing blood. But everything changed when COVID hit. Patient needs changed. And the way I connected with patients changed. We always do everything we can to brighten their days and provide them with love, hope, and the best medical care possible. But there is just something about this pandemic that opened our eyes and made us look differently at the way we provide care. And for me, personally, it made me realize just how important it is for everybody to remain in good spirits, especially when it's really hard to do so.
I don't think we should fear this virus. But we do need to respect it. We need to accept that this is our reality right now and adapt. We need to do what we can to protect ourselves and others.
Damaris Torres
Nursing Department
Grace LaTorre
As a Palliative Care physician, I care for patients with serious illnesses and those nearing end-of-life. The job of the Palliative Care Team is to support patients and their families and bring them together during a very difficult time. COVID has made this rather difficult, so we had to adapt and get creative. We've had to figure out a way to enable families to grieve and be with their loved ones. We have utilized technology like iPads and video chatting, which was challenging and didn't feel natural at first, but we have adapted. And this wasn't the only challenge we faced. We've had a tremendous increase in the number of patients we were supporting, and our consult volume across the hospital went up about 40 percent. We are working to our max, while at the same time sacrificing the time spent with our own families.
We've made a lot of headway in terms of how to deal with this pandemic, however, we are still in it. We are still seeing a rise in cases. I urge people to not underestimate or minimize the reality of what's happening here. We are continuing to work as hard as we have been since the pandemic first hit. It's real. It's here. And we can address this together if we all continue to wear our masks, maintain social distance, and avoid large gatherings. Respect your life. Respect others' lives. It is going to take all of us to really get through this.
Grace LaTorre
Director, Palliative Care Service, Stony Brook University Hospital
Program Director, Hospice & Palliative Medicine Fellowship
Director, Hospice & Palliative Medicine Education and Clerkships
Assistant Professor of Clinical Medicine
Ian Pak
COVID has changed everyone's lives. It's impacted our day-to-day. And it's still very busy here. We're seeing the post-holiday spikes, and it's a good reminder to everyone that the virus is still out there, and we still need to maintain vigilance and follow the protocols that have served us well since March.
It's been a really humbling experience to be part of the vaccine rollout to healthcare workers, specifically. These are the people who have been on the frontlines and saving peoples' lives. The logistics of rolling out the vaccine to hopefully help protect everyone is an extra challenge, but I think we have the right group of people doing it, and we're pushing forward.
Ian Pak
Pharmacist, administered the first vaccine at Stony Brook University Hospital
James Tychnowitz
Prior to COVID, I was working as a pulmonary educator, talking to patients about pulmonary diseases and how to manage themselves. I don't think people knew what a respiratory therapist was before the pandemic. It's not a role you'd normally see in shows like Grey's Anatomy, and it's not something you would really even think about unless you or someone you know needed to be put on a ventilator. But then COVID hit, and everything changed. I became exclusively focused on managing pulmonary medications and taking care of ventilators – life support machines. When this all started, we were navigating uncharted territory, forced to treat an unknown and figure out the best management strategies to keep patients alive.
Everything was so chaotic. Whenever a patient comes off a ventilator, we play chimes. But I'd be lying if I said I remember the first time I heard the chimes. Time feels compressed when you are exhausted because of the daily rigorous care you are providing to the most affected patients of the pandemic. The virus is a vulture waiting to latch onto people who are most at risk. However, I am hopeful. There is a light at the end of the tunnel, and that speaks to the hard work everybody is doing to make that possible.
James Tychnowitz
Respiratory Therapist
Jennifer Leone
Every day when I leave the hospital and drive home, I look up at the bright blue sky, and I cry thinking about what I just left behind. I hate leaving work because help is always needed. My job is to transport patients throughout the hospital. This didn't change when COVID hit, but my life certainly did. The number of patients we move on a given day has grown tremendously, and we now need to put on proper PPE before we can even be with a patient. But the biggest change of all is not being able to interact with patients the way we used to. Moving with patients from point a to point b allowed us to talk to them. This is our way of getting to know them and providing comfort. But patients with COVID have a hard time breathing and are often hooked up to oxygen, so they can't really talk. That doesn't stop us from doing what we do, but it's different. I still talk to patients and have them nod or give a thumbs up. I will always do anything I can to provide comfort. I even visit patients during my breaks on occasion because it can be lonely for them, and sometimes you just need somebody to talk to.
The pandemic has really made clear we are all a team at the hospital. We in transport help the nurses as much as we can - especially right now. But it's not easy. I am exhausted. According to my watch, I walk about eight miles per day within hospital walls. But I have to say, I have never been more proud to have a job than this one at Stony Brook.
Jennifer Leone
Transport Distribution
Joshua Miller
I received a call from Dr. McGovern in early March outlining the need for a community-facing on-site COVID-19 testing location at Stony Brook University's South P-lot, and I was asked to help oversee clinical operations. Prior to the pandemic, my job as medical director of our Clinically Integrated Network was (and still is) to ensure that patients receive the highest quality of care anywhere they go within the health system. I also oversee Stony Brook Medicine's diabetes program. But when I got that call about the testing site, every appointment on my calendar needed to be pushed to focus on this high-priority initiative. And the testing site wasn't the only priority. We quickly realized the profound impact that COVID-19 has on hospitalized patients with diabetes. I found myself at the testing location in the mornings and at the hospital in the afternoons, rounding with our diabetes team on critically-ill COVID-19 patients with diabetes in the ICU. And then meetings, of course, were done at night.
While things seemed to be looking up for a while over the summer months, we are now in the midst of a second and more challenging wave. Many are exhausted. But healthcare workers cannot give in to COVID fatigue; we must persevere. We are continuing to fight this virus to help our patients and our team get through these challenging months ahead. All we ask is for people in the community to continue to be diligent about safety measures and help to prevent the spread. I am inspired by my colleagues in healthcare who have given tirelessly to help patients and support one another through these unprecedented challenges and remain #StonyBrookStrong.
Joshua Miller
Assistant Dean for Clinical Integration
Medical Director of Diabetes Care
Manny Taveras
I am part of a vital operation at Stony Brook. My job is to deliver linens throughout the hospital every day, regardless of the circumstances. Whether it's a towel, blanket, or gown, you need to have clean linens in a hospital setting. We even provide hypoallergenic linens for those who need them. Nothing but the best for our patients. It all comes back to providing comfort and the best possible care. And that continues to be the case, even throughout the pandemic. A lot changed, though, behind the scenes when COVID hit. More patients means we are a lot busier. And we take so many precautions now to keep ourselves and others safe. The first few months of the pandemic were particularly scary for me. I worried about bringing something home to my family. We slept apart because I was afraid I might infect them. It was mentally exhausting - and still is, sometimes.
Everybody who works in this hospital is working extremely hard. We are battling every day. I'm proud to work at Stony Brook, and I'm proud to be in my department. We are all pushing forward together.
Manny Taveras
Linen Department
Michael DeMasi
My life has changed dramatically since COVID first hit. Obviously social distancing, isolation, spending holidays exclusively with my nuclear family, things like that. But in terms of what I do here at the Hospital, I am largely involved with obtaining the PPE and supplies that are critical for taking care of our patients and keeping our staff safe.
I never expected to be working in the midst of a pandemic. It's a tremendous challenge because the demand for supplies and resources is throughout the country now – not just Long Island and the New York area. But I do see a light at the end of the tunnel. We're not there yet. We still have a long way to go. We're in the midst of a second wave, but we can get there. We just have to stay the course. And to anybody who thinks this is no longer a problem, I would say: I wish I could walk you through some of the floors in the hospital, and you can tell me it's not a problem.
Michael DeMasi, RN, MS
Director of Clinical Value Analysis, Stony Brook University Hospital
Uchechi Oddiri
I typically care for critically-ill patients from infants to adolescent children. We have a huge breadth of acuity in our unit. But when the pandemic hit, we were faced with doing something we typically didn't do in our day-to-day. We pitched in to help care for adult patients. This actually turned out to be a very eye-opening experience. We had adult patients introduce us to their kids on FaceTime, and many of us being parents ourselves, it just hit us. It could just as easily be any one of us in that hospital bed. You don't feel that as much when caring for patients so much younger than you. It really helped us to empathize on a whole new level. We also had a spike in our younger patients coming in with post-COVID Multisystem Inflammatory Syndrome in Children, which was something else we had never seen before. It was just all uncharted territory, but we stepped up. We showed strength and resilience because we had to – for our patients. I think it's helped us to become better doctors and better people. We were tested, and we proved to ourselves that we can reach higher limits than we ever thought possible.
Uchechi Oddiri, MD, FAAP
Clinical Assistant Professor of Pediatrics
Stony Brook University Renaissance School of Medicine
Pediatric Intensivist, Stony Brook Children's Hospital
Mike Cullen
I'll never forget my first experience with COVID-19. I went up to the CEO's office, and Senior leadership was all there. They told me they needed us to renovate a floor ASAP. So, that's exactly what we did. In just three days, we completely updated and transformed a floor to accommodate COVID-positive patients. I was so impressed with and proud of my team, and that pride only continued to grow as things escalated. We also secured and installed 95 negative pressure machines to filter the air in COVID-positive patient rooms, which was no small feat. It was just teamwork I had never seen before. Plant operation, housekeeping, project management, construction, architecture, nursing – everybody worked together amid this uncharted territory. And I had a whole new level of appreciation for every single team and department at Stony Brook. Everybody understood the risks and did what they needed to do. And they still are.
The pandemic just feels so surreal. It's something you can't make up. Even just being on a COVID floor in the hospital – it changes your life. I guess at the end of the day, all I have to say is a lot of special people work at Stony Brook.
Mike Cullen
Associate Director of Facilities and Support Services
Molly Rago
I work at the Stony Brook Cancer Center and help get patients onto clinical trials for different treatments, radiation, surgery, and other interventions. I help get them into the studies and monitor them throughout their time in the trials, as well as during follow up. When COVID hit last spring, I was reassigned to a COVID-19 study that was meant to take donated plasma from those who recovered from the Coronavirus and infuse it in existing COVID-positive patients. The study has since ended, but I am definitely keeping busy back at the Cancer Center. COVID changed a lot for cancer patients. Not only do they have an extra layer of concern being immunocompromised, but they can't have loved ones physically with them right now while they receive treatment. It's an extremely difficult time for everybody.
While being called a hero is flattering, I don't really consider myself to be one. Or at least I'm no different from my colleagues. Everybody has been impacted by COVID, and everybody has stepped up. In my book, everybody is a hero.
Molly Rago
Oncology Research Nurse
Harold Rivas
COVID is a public enemy – but one we can't physically see. It's something that required us to step up and do things we've never done before. What that meant for my team was surface and airborne decontamination using a hydrogen peroxide vapor technology. Everything that involved patients and healthcare professionals was cleaned with this new technology. Patient rooms, nursing equipment, cell phones – you name it, we cleaned it. And I have to say, I don't consider myself a hero. My staff are the heroes in all of this. They are the ones facing the pandemic every day, and I am just here to support THEM.
I honestly never thought I would experience something like this. But it's taught me a lot. For example, don't be selfish. Nobody is immune to this, and you never know when the virus is going to touch your life, if it hasn't already. This is no joke. We need to stay alert. And if you have the opportunity, get vaccinated.
Harold Rivas
Supervisor, Housekeeping