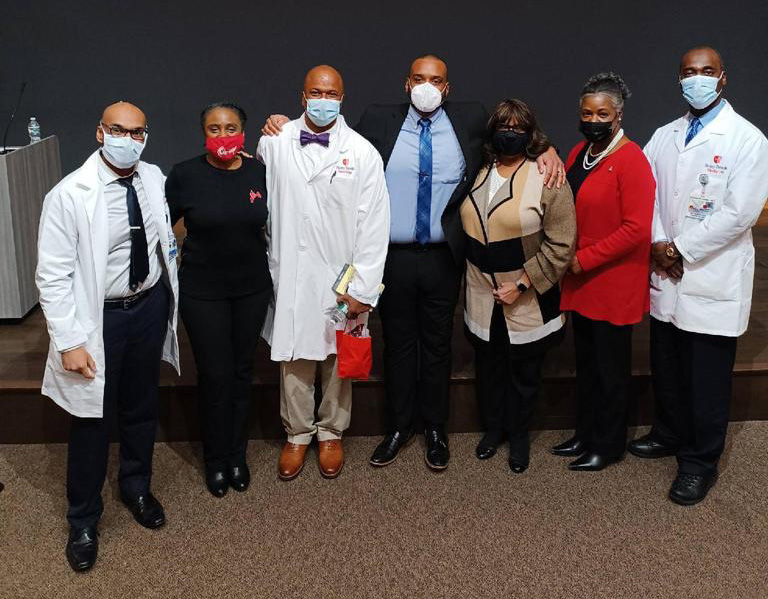 Panelists Ishu Kant, MD; Jedan Phillips, MD; moderator Wilfred Farquharson, PhD; and panelist James Bernasko, MD; with audience members from the Suffolk County Alumnae Chapter of Delta Sigma Theta, a historically Black sorority dedicated to public service with an emphasis on programs that assist the Black community.
In the days preceding Thanksgiving, 2021, the Diversity, Equity and Inclusion Committee at Stony Brook University brought a powerful, 80-minute documentary, "Black Men in White Coats" to Stony Brook and hosted two nights of related panel discussions.
The premise of the film is that if more young Black males see more Black male doctors, they will say, "I can do that, too." The importance of having more Black physician role models has reached crisis proportions. Today, Black men have the lowest life expectancy in the U.S. while only 2 percent of doctors in the U.S. are Black men. It's a message that parents and educators. middle school and high school students, undergraduate and medical students, and the entire community need to hear, see, learn from and act upon.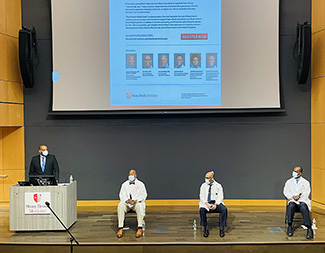 Panelist Jedan Philips, MD, sharing his life experiences, positive influences and wisdom gained along the way that led him to fulfill his childhood dream of becoming a doctor.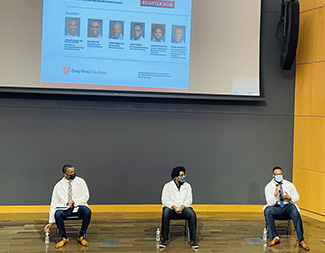 Panelist Aaron Duncan, BS, SBU '21, recalling moments of self-doubt and setbacks along the way that were overcome through perseverance and with the encouragement and support of people who believed in him.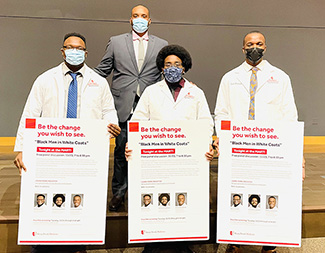 Panelists Aaron Duncan, Jermaine Robertson, and Emelio Woodstock, with moderator, Wilfred Farquharson, PhD.
We Can Help Stop the Fourth Grade Failure Syndrome
Did you know that there's something known as the "fourth grade failure syndrome" where up until that point, young Black males display similar levels of confidence and aspirations as their white male counterparts? Then around fourth grade, as kids become more aware of racial differences, and whether through micro-aggressions or macro-aggressions leveled against young Black males, their confidence levels tend to plummet without continual affirmation and positive reinforcement at home, school and within the community. The film addresses what we can do to to help raise our young Black males to be empowered, confident young Black men who see possibilities instead of obstacles and who look to the field of medicine as an attainable goal. The return on that investment benefits us all.
The Journeys of Stony Brook's Own "Black Men in White Coats"
Two evenings of insightful, related panel discussions were also hosted to discuss the film and gain insights into the Black male journey leading to medical school and experience in the field of medicine. Featured were six of Stony Brook's own "Black Men in White Coats." While each panelist's path was unique, there were common threads throughout. The panelists also touched upon some of the programs that Stony Brook offers to help attract Black males into the field of medicine.
Panelists for the first panel discussion included: Jedan Phillips, MD; Ishu Kant, MD; and James Bernasko, MD. Panelists for the second panel discussion featured recent Stony Brook University graduate, Aaron Duncan, BS; and two Renaissance School of Medicine at Stony Brook University students, Jermaine Robertson, BS (2nd year medical student); and Emelio Woodstock, MS, (4th year MD candidate).
Perhaps Dr. Phillips (panelist) summed up the potential impact of events like this best, when he told of an encounter he experienced as he left the auditorium after Monday evening's panel discussion. "I was approached by a Black father and his 10 year-old son and the father told me that his son was an exceptional student and wished to become a doctor," said Dr. Phillips. "He then asked me to take a photo with him with my white coat on. I told the young man that I'm going to need a doctor in 15 years and I wish for it to be him. Seeing it makes becoming it more of a reality."
Acknowledgements
The free screening of "Black Men in White Coats" was made possible by the generosity of the American Medical Association. Wilfred Farquharson, PhD, a Faculty Diversity Ambassador and Co-Chair of the Graduate Medical Education Diversity and Inclusion Committee at the Renaissance School of Medicine at Stony Brook University served as moderator for the panel discussions. Dr. Farquharson is a Clinical Assistant Professor of Psychology and Behavioral Health at Renaissance School of Medicine at Stony Brook University and Director of Child and Adolescent Psychiatry Outpatient Services at Stony Brook Medicine. The committee responsible for planning and producing this event had the full support of Judi Brown Clarke, PhD, Vice President for Equity and Inclusion and Chief Diversity Officer at Stony Brook University; and William Wertheim, MD, MBA, FACP, Interim Dean, Renaissance School of Medicine at Stony Brook University.