Advanced Specialty Care, Stony Brook Medicine's new, multispecialty center in Commack, offers more choice and flexibility when looking for quality medical care.
The center offers nine medical specialties designed to meet families' medical needs. Doctors located in the facility will include:
primary and specialty care internists and pediatricians
gynecologists and obstetricians
dermatologists, orthopaedists and urologists
surgeons and neurosurgeons
There is also a complete imaging center on site to provide x-rays, mammograms, ultrasounds, bone densitometry, CTs and MRIs. 

High-quality medical care
For busy families, Advanced Specialty Care offers medical expertise and compassionate care from Stony Brook Medicine physicians and staff in a single state-of-the-art building.
If surgery or other specialty care is needed, patients can go to Stony Brook University Hospital without any disruption in their care. Having so many specialties under one roof provides patients with "one-stop shopping" for most of their healthcare needs.
Convenient location with plenty of parking
Advanced Specialty Care is located at 500 Commack Road. Stony Brook Medicine occupies more than 110,000 square feet of space in this state-of-the-art ambulatory care facility, allowing room for expansion. The location is just minutes away from the Long Island Expressway, Sunken Meadow Parkway (Sagtikos) and Northern State Parkway.
Watch a video to learn more!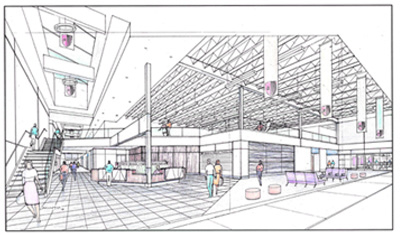 A rendering of the interior of Stony Brook Medicine's Advanced Specialty Care.