Our clinical practice is staffed by a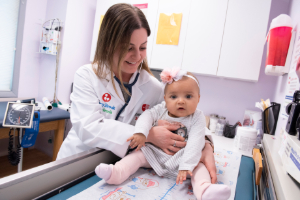 general pediatrician and a pediatric nurse practitioner, with a team of nurses and medical assistants specially trained to care for children from infancy to young adulthood. We provide comprehensive primary care, including routine well care, immunizations and sports physicals with EKG.  Sick care includes, but is not limited to, ear infections, upper respiratory infections, and asthma as well as ear-piercing and other services. While our primary emphasis is on preventive care, we are well-equipped to handle everything from common pediatric illnesses to complex medical conditions. Our health care practitioners provide the highest quality of care to all children. We're with your child every step of the way, assessing needs, identifying any problems, and celebrating milestones.
Some of the services we provide in the office:
Lab: Our lab is certified with a CLIA license which is a government lab monitoring system.  We are equipped to do throat cultures, flu tests, rapid mononucleosis tests, urine tests, pregnancy tests, stool tests, glucose monitoring, PPD, RSV and lead test for 1 and 2-year-olds.
Screening Procedures:

Hearing Test - Otoacoustic emission test (OAE)
Vision Test - Snellen chart and spot vision test
EKG - Screening for sports physicals
PFT - Lung function test for kids with asthma, wheezing and chronic cough

Ear Piercing: We are equipped with Coren PS piercing system which is ready-to-use laboratory tested, packed and sealed.  Earrings are made with hypoallergenic gold material.  Earrings are included with the procedure; choices are gold and gold with simulated diamond.

The procedure is as follows:

Ideal time for ear piercing in a baby is between 6-9 months and also can be done at any age. 
We anesthetize the earlobes using a topical anesthetic cream.
The earlobes are marked and measured, then shortly after, while using an individually sealed disposable ear piercer (to avoid any concerns of cross-contamination) the ear is pierced quickly and efficiently.

Wart Removal: We also provide histofreeze procedure for the removal of viral warts.