About Us
NAD Medical Services at Peconic Landing, in collaboration with Stony Brook Medicine, is a primary care practice providing preventive medicine and medical management of acute and chronic conditions to patients 18 and older in Greenport and the surrounding communities. Our goal is for you to feel confident about the quality and coordination of the medical care you receive. We are continuously investing in new practices, technologies and procedures to help enhance our ability to provide more effective and consistent communication with information regarding your health.
---
Our Physician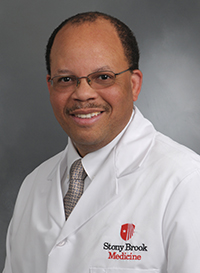 Nathanael Desire, DO, CMD
Dr. Desire is board certified in primary care and specializes in primary care and geriatric medicine. He has been providing patient care for more than 15 years and has treated thousands of patients with compassion and respect. 
Dr. Desire received his medical education from the New York Institute of Technology College of Osteopathic Medicine and completed his internal medicine and pediatrics residency at Stony Brook University Hospital. Dr. Desire is a member of the American Geriatrics Society, American Board of Post-Acute and Long-Term Care Medicine and the American Osteopathic Association.