Incredible Music
Music lovers can indulge in virtually every genre throughout the Island. You can catch well-known rock bands at Jones Beach, enjoy classical music performances by the Long Island Philharmonic, and find venues for everything from pop to jazz to alternative to ska.
The Lure of the Hamptons
Known for magnificent homes, soft white sand beaches, and celebrity sightings, the Hamptons are a tourist attraction as well as a weekend destination for city dwellers. A series of towns, the Hamptons feature fine restaurants, small town squares, exceptional art galleries, trendy boutiques, and plenty of great people-watching.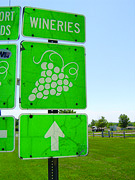 Award-Winning Wineries
Thousands of miles from Napa, France, and Italy, some of the world's most promising wineries have emerged on the shores of Long Island. Though less than 35 years old, the Long Island wine industry has grown from a single vineyard to more than 30 wineries offering world-class wines, along with enjoyable tours and tastings.
The Magic of Manhattan
Just 59 miles from Stony Brook is Manhattan, part of the most famous, most-visited city on the planet. Though a small island, just 23.7 square miles in size, Manhattan is exceptionally urbanized, offering visitors a diverse array of restaurants, entertainment options, museums, parks, sports venues, shopping choices, and sightseeing opportunities.
From the art galleries and boutiques of Soho and Tribeca, to the fascinating streets of Chinatown and Little Italy, to the upscale shops of Madison Avenue, to the quiet family neighborhoods of the upper West and East sides, to the historic beauty of Harlem, Manhattan is a fascinating microcosm filled with people and places representing virtually every country in the world.