About Us
Cardiovascular and Lifestyle Medicine (CALM), in collaboration with Stony Brook Medicine, is a community-based cardiovascular care practice addressing health care in Nesconset, Holbrook and the surrounding communities. Our goal at Cardiovascular and Lifestyle Medicine is for you to feel confident about the quality and coordination of the medical care you receive. Our network of community-based physicians work closely with the experts at Stony Brook Medicine, affiliate community hospitals and other medical professionals to enhance the coordination of the medical care we provide to each patient in the communities we all serve. We are continuously investing in new practices, technologies and procedures to help enhance our ability to provide more effective and consistent communication regarding your health.
---
Our Physician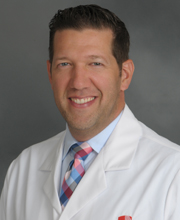 Joseph Franco, DO
Dr. Franco specializes in cardiology and has been providing excellent patient care for more than ten years.  
"I am thrilled to join Stony Brook Medicine to provide general and interventional cardiology services at our two dynamic locations in Nesconset and Patchogue," said Dr. Franco.  "Since our doors first opened in February 2016, we have grown the old-fashioned way, by providing dedicated, compassionate and patient-centered care.  By partnering with Stony Brook Medicine, our goal is to expand this personalized service in these communities."
Dr. Franco attended medical school at New York College of Osteopathic Medicine and completed his residency at Temple University Hospital. Dr. Franco continued his training at Brown University Warren Alpert School of Medicine, where he studied and gained expertise in coronary angiography and intervention using the radial artery.