Marci Shimoff Teaches Women How to be Happy
Marci Shimoff, bestselling author of Chicken Soup for the Women's Soul  inspired a crowd of more than 100 women at Stony Brook Medicine's seventh annual Women's Health Day on Sept. 28.
Shimoff's keynote address energized the audience with strategies on how to build self-esteem and live a life of happiness and self-fulfillment. She is the author of Happy for No Reason, Love for No Reason, and co-author of the Chicken Soup for the Woman's Soul series. Watch highlight video.
Women's Health Day, held at Advanced Specialty Care, Stony Brook Medicine's multispecialty practice in Commack, featured breakout sessions led by 11 Stony Brook Medicine experts. Attendees learned from Stony Brook Medicine physicians and staff about the following health topics:
Avoiding Common Heart Health Mistakes
Coping with Changes In Eyesight as We Age
Getting a Grip on Hand Pain and How to Treat It
Breast Cancer: The Importance of Early Detection, Eating Well and Exercise
Take Control of Your Bladder Health
What Women Need to Know About Colorectal Cancer
Alcohol Consumption as You Age
Weight Loss and a Healthy Heart
Is Memory Loss Part of Normal Aging?
The day was a big hit with attendees. Joan M. from Smithtown rated the day as "fabulous," and Maryanne V. from Coram said that she "really enjoyed (it) all." An attendee from Dix Hills summed it all up when she said, "The entire day was so wonderful – the best yet and I have been to all six seminars."
Attendees left Women's Health Day inspired to take charge of their health and be active partners in their health and well-being. The popular event has attracted more than 1,000 women since its inception in 2013.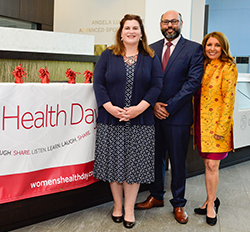 Guest speaker Marci Shimoff with Stony Brook Medicine experts Jill Genua, MD and Nikhil Palekar, MD.