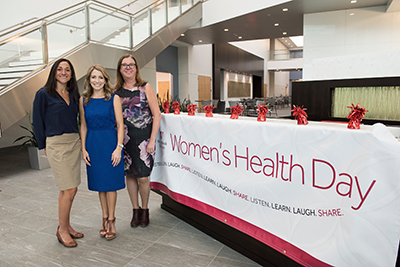 Seven-time Olympic medalist Shannon Miller inspired a crowd of 120 women with her message of "making your health a priority" at Stony Brook Medicine's sixth Annual Women's Health Day on October 20.
The half-day event, held at Advanced Specialty Care in Commack, featured breakout sessions led by 10 Stony Brook Medicine experts and a keynote address by Miller. She shared her memories of her gold-medal winning performance at the Olympics and how she used the lessons learned from her training days — goal setting, maintaining a positive attitude and a never-give-up spirit — when faced with a diagnosis of ovarian cancer at age 33.
Stony Brook Medicine experts educated attendees on various health topics, gave them opportunities to ask questions and provided useful tips on how to improve their health. Breakout sessions provided health education on topics, including breast cancer, heart disease, healthy hair and skin, pelvic floor disorders and memory loss.