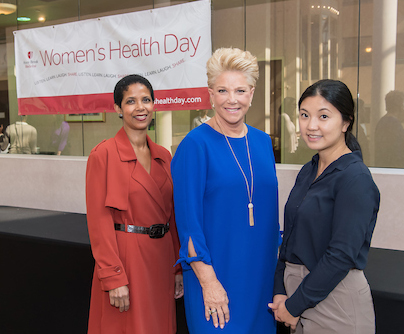 From Good Morning America, to Good Afternoon, Long Island
Joan Lunden motivates audience at Stony Brook Medicine's Women's Health Day
Joan Lunden, one of America's most recognized and trusted television personalities, shared her thoughts and perspective on life and health at Stony Brook Medicine's fifth annual Women's Health Day on Saturday, Oct.21. The former co-host of Good Morning America for almost two decades inspired the nearly 200 women who had come to listen, learn, laugh and share at the Melville Marriott Long Island.
The award-winning TV journalist, best-selling author, health and wellness motivational speaker, entrepreneur, mother of seven and breast cancer survivor shared many colorful, personal anecdotes filled with poignant wisdom and lighthearted humor.
Before delving into "How to Be the CEO of Your Own Health," Lunden opened up about the challenges and life lessons she experienced as early as age 13, when she unexpectedly lost her physician father — a cancer specialist — in a fatal plane crash. That tragedy taught her about resilience as she witnessed with admiration, her mom bouncing back to juggle work and parenting.
Fast forwarding to life in the 2010s, she spoke about being diagnosed three years ago with triple negative breast cancer and what she has learned since. She spoke of how, because of her dense breast tissue, her doctor had wisely sent her across the hall for an ultrasound even after her mammogram results were clean. It was the ultrasound that detected the abnormalities that her mammogram had missed.

Lunden urged the women in the audience to advocate for themselves — not to leave it up to anyone else — and to make time to care for themselves. She stressed the importance of how, if you know you have dense breast tissue, demand the right to a screening method beyond regular mammography. Among those available are 3-D mammography, screening breast ultrasound and screening breast MRI. And if you don't know if you have dense breast tissue, ask.
Lunden also reminded the audience how often life's challenges provide us with some of life's biggest opportunities. She is a perfect example — taking her breast cancer diagnosis and turning it into something positive by levering her position as a nationally known TV health advocate to educate the public.
Attendees left Women's Health Day armed with new knowledge from the morning seminar sessions featuring 14 Stony Brook Medicine experts who shared the latest information and research and thinking about various topics important to women, and they left feeling uplifted and inspired to advocate for their own health and wellbeing after listening to Lunden's motivating talk.
The topics covered in the morning sessions included: Alzheimer's Disease, Outsmarting Breast Cancer with Your Immune System, Circulation Problems in Women, New Options for Successful Weight Loss, Heart Disease, Injury Prevention and Aging, Pelvic Floor Disorders, Hormone Replacement Therapy, Diabetes, Assessing Gynecologic Cancer Risk, and Non-Surgical Treatments for Spine and Major Joint Pain. After each session, Stony Brook experts were available to answer.
Check out a video from the event!
Photo (L to R): Allison McLarty, MD; Joan Lunden; Minyi Tan, MD