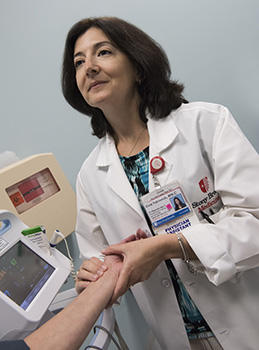 Do I need to fast for my Pre-op Visit?
Fasting is not required for pre-op lab work or visit.
Should I take my medications before my pre-op visit?
All medications can be taken before your pre-op evaluation. Medications to be taken on day of surgery will be reviewed at your pre-op evaluation.
What time is my surgery?
Main Hospital:

You

must call 444-1002 between 4pm & 9pm on the business day before your surgery and they will confirm your arrival time.
Ambulatory Surgery Center: The center will call you between 1pm & 6 pm on the business day before surgery and inform you of your arrival time.
Are anesthesiologists services covered under my insurance?
The anesthesiologist physician group at Stony Brook Medicine takes the same insurance as the hospital. Additional questions about coverage can be answered by contacting Richard Bogenschutz (Administrator Anesthesiology) at 444-2976.
Is there a co-pay for my pre-op visit?
You must check with your insurance company, in some instances a co-pay may be required.
My doctor ordered other lab tests for me that are not related to my surgery. Can these be drawn at my pre-op visit?
We are happy to draw any additional tests that you may need done. However, you may be billed a lab co-pay for lab work that is not a requirement for surgery. Be aware if those additional tests require fasting, as fasting is not required for your pre-op visit.
Can I wear nail polish or jewelry on the day of my surgery?
All jewelry and nail polish must be removed prior to surgery.
Can I chew gum, if I am not allowed to eat?
You may

not

chew gum or have candy after midnight the day before surgery.
Can I come for surgery by myself?
All patients are required to have a responsible party take them home from the Hospital/Ambulatory Surgery Center and remain with them for 24 hours after their surgical procedure.