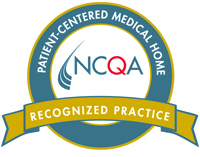 Who we are:
The board certified family physicians in the medical group are all faculty members in the Division of Family and Community Medicine. They emphasize a commitment to comprehensive and family-oriented care on a continuing basis. They provide primary care at the Family Practice Centers in Lake Grove and Patchogue.
Our medical group is a NCQA recognized patient-centered medical home, meaning we practice a model of care designed to strengthen relationships between you and your care team. Our team approach works to establish a long term healing relationship with you. The patient-centered medical home results in more personalized, coordinated and efficient care for you and your family.
NCQA is a private, non-profit organization dedicated to improving health care quality.  NCQA's Web site (www.ncqa.org) contains information to help consumers, employers and others make more informed health care choices.

Recent quality improvement projects:
Setauket Quality Project Link           Patchoque Quality Project Link
Our goals:
To treat each patient with kindness and respect.
To provide our patients with evidence-based, high quality, patient-centered medical care.
To promote self-management of chronic diseases through counseling and education.
To encourage a healthy lifestyle which includes a proper diet, exercise, smoking cessation and safe use of medication.
To offer patients good continuity and coordination of care across health settings from infancy to end-of-life.
To provide equal access to care for everyone.
To respect each patient's right to privacy.
Clinical services include full family-centered medical care for patients of all ages:
Care for common illnesses
Care for chronic illness
Well-child and adolescent care
Geriatric care
Women's health
Men's health
Sports medicine
Wellness and prevention
Nutritional counseling and therapy
Vaccinations
Behavioral health and counseling services
Patient Responsibilities:
Take part in your care by telling us your needs and concerns.
If you are unable to keep a scheduled appointment, please call our office to reschedule as soon as possible.
Patients that repeatedly "no show" may be discharged from our practice.
Be sure to ask for refills when you are in for your appointment. Quantities should be sufficient to last until your next visit. Certain medications will NOT be prescribed or refilled over the phone
Prescription refill requests should be called in to your pharmacy. THey will contact us electronically to request your refill.
Let us know when you see other providers and which medications they put you on or change.
 
Urgent or Routine Care:
Our offices leave openings in the daily schedule for those who need it.  Urgent calls received during office hours will be handled by nursing staff.
For emergencies that cannot wait, please call 9-1-1 or go to the nearest emergency room.
 
Important Contact Information:
By phone during and after office hours:
Lake Grove (631) 444-5858
Patchogue (631) 638-1750
Non-urgent messages left with our office after hours will be returned by the end of the next business day.  To establish your Patient Portal account, speak with our office staff during your next visit to your doctor's office.
 
Medical Release Information:
Click on the link below to download the form which you can complete and bring to your upcoming appointment.
Authorization for disclosure of health information
 
Insurance Information:
Our physicians participate with most major health insurance carriers.  For up-to-date insurance information on our physicians, click on the provider name below.
Visit NYS of Health website or call (855) 355-5777 if you need affordable health insurance.
Website Helps Uninsured Secure Health insurance: http://coverage4healthcare.org
Stony Brook Family & Preventive Medicine - 4 Smith Haven Mall Suite 202
Lake Grove, NY 11755
                                                                   

Office Hours

Mon - Wed: 8:00 am-8:00 pm 
Thurs: 8:00 am-7:00pm
Fri:  8:00 am–5:00 pm
Sat:  First, second, fourth and fifth Saturday of each month 9:00 am–1:00 pm  

Telephone: (631) 444-5858
Fax: (631) 444-1899

 
Stony Brook Family & Preventive Medicine - Patchogue, New York, 11772
285 Sills Road, Building 12 Suite C
Office Hours

Mon, Tues:  8:00 am-5:00 pm 
Wed:  10:00 am-8:00 pm
Thurs, Fri:  8:00 am–5:00 pm
Sat:  Third Saturday of each month 9:00 am-1:00 pm

Telephone: (631) 638-1750
Fax: (631) 638-1761
Gerald Kelly, DO

Jake Hunter, MD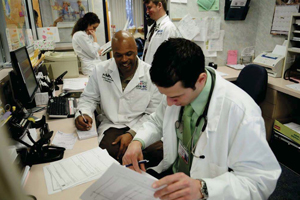 Medical Education 

Stony Brook Family Medicine is a renowned training institution for student doctors and healthcare providers.  Our faculty consists of leaders in both clinical practice and medical education.  The teaching aspects of our medical home practice help to improve healthcare delivery by ensuring the continuity of your care.  This is one of our highest priorities and it is fostered by this team approach.