About Us
North Fork Orthopaedic and Sports Medicine is a comprehensive orthopaedic practice treating bone, joint, and muscle injuries and disease with subspecialty training in sports medicine. As a provider within Stony Brook Medicine's Center for Musculoskeletal Health, we have easy access to referrals to other high-quality subspecialists including spine, hand, and foot and ankle. 
Whether you are an active athlete or someone experiencing chronic joint pain due to osteoarthritis, our orthopaedic specialists are here to help you improve your physical condition. Our goal is to decrease your pain and improve your overall range of motion. Education, strengthening exercises, reduction of stress on joints, anti-inflammatory medications and surgery are all tools available to help improve your condition. If you are injured, having pain or living with arthritis, call us at (631) 298-4579 for a consultation.
---
Physicians & Staff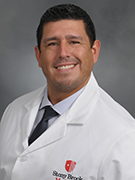 John Roe, MD
Dr. Roe is a fellowship-trained orthopaedic sports medicine surgeon specializing in treating all sports and activity-related injuries, both operative and nonoperative. He is experienced in the arthroscopic and open treatment of the knee, shoulder, hip, ankle and elbow. He specializes in arthroscopic surgery of the knee, shoulder and hip to include meniscus repair/debridement, complex ligament reconstruction, cartilage restoration, rotator cuff repair, shoulder instability, hip impingement and labral repair, as well as fracture care. Additionally, Dr. Roe has specialized training in anatomic and reverse shoulder replacements for arthritis and fractures.
"I am looking forward to being a part of the North Fork community and providing exceptional care for my patients to help them live their best lives," said Dr. Roe.
Dr. Roe received his undergraduate degree from Stanford University and his medical degree from Albert Einstein College of Medicine. He completed his orthopaedic surgery residency at Montefiore Medical Center. Following his residency, Dr. Roe completed a sports medicine fellowship at Memorial Hermann IRONMAN Sports Medicine Institute at Memorial City Medical Center. During his fellowship, he received specialized training in minimally invasive and advanced arthroscopic techniques for the treatment of sports-related musculoskeletal injuries. He served as an assistant team physician for the Houston Texans, Houston Astros, Houston Rockets, University of Houston and Deer Park High School in Deer Park, TX.
He is an Assistant Clinical Professor in the Department of Orthopaedic Surgery at Stony Brook University Hospital and serves as the Director of Orthopaedic Surgery at Stony Brook Eastern Long Island Hospital.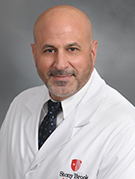 John J. Rongo, MS, PA-C (Riverhead Office Only)
John Rongo is a physician assistant certified by the National Commission on Certification of Physician Assistants (NCCPA) with a specialization in orthopedics. He received his Bachelor of Science in Physician Assistant Studies at Touro College followed by his master's degree in physician assistant studies. John is a member of the American Academy of Physician Assistants (AAPA), the Association of Physician Assistants in Cardiology (APAC) and the Physician Assistant Education Association (PAEA).
---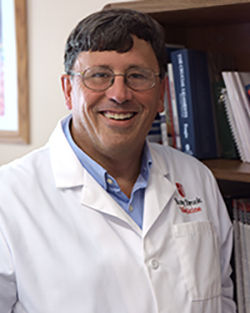 Remembering Fred M. Carter II, MD, FAAOS, FACS (1960 - 2020)
Dr. Carter was the founding physician at North Fork Orthopaedic and Sports Medicine and provided compassionate orthopedic care for more than 20 years to the community.  
 
He was a lifelong Long Islander.  He graduated from Cornell University in 1982 with a double major in biology and physiology. He received his medical education from Columbia University Vagelos College of Physicians and Surgeons. After earning his medical degree, Dr. Carter completed an internship in surgery at St. Luke's Roosevelt Hospital and a residency in orthopedic surgery at the University of Medicine and Dentistry of New Jersey. He completed a fellowship in sports medicine at the Emory Orthopaedic and Spine Center and an orthopedic research fellowship at the George L. Schultz Laboratories for Orthopaedic Research.  
 
The North Fork community is one Dr. Carter was proud to be a part of and serve. His passions in life were his family and his profession, and he approached both with enthusiasm and a smile on his face.