About Us
North Fork Orthopaedic and Sports Medicine is a comprehensive orthopedic practice treating all aspects of bone, joint, muscle injuries and disease. In collaboration with Stony Brook Medicine, we have access to easy referrals to high-quality specialists and seamless collaboration on our integrated electronic patient record. We are pleased to be part of The Center for Musculoskeletal Health on the East End, serving all of your orthopedic needs.
Whether you are an active athlete or someone experiencing chronic joint pain due to osteoarthritis, our orthopedic specialists are here to help you improve your physical condition. Our goal is to decrease your pain and improve your overall range of motion. Education, strengthening exercises, reduction of stress on joints, anti-inflammatory medications and surgery are all tools available to help improve your condition. If you are injured, having pain or living with arthritis, call us at (631) 298-4579 for a consultation.
---
Physicians & Staff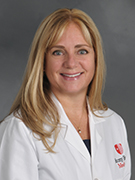 Teresa Habacker, MD, FAAOS, FASSH
Dr. Habacker is a board-certified orthopedic surgeon with an additional certification in hand surgery; this means that she subspecialized with an extra year of training in hand surgery. 
Dr. Habacker's interest in orthopedics was piqued by "Ring the Night Bell," the autobiography of Paul Magnuson, MD, an orthopedic surgeon who applied mathematics to medicine at the turn of the century and designed instruments and prosthetics to restore function for the wounded returning from the war. She studied biomedical engineering at Duke University, planning to apply this to her surgical training. Subspecializing in hand surgery was a natural fit. She has the opportunity to care for newborns and the aging, those with sports injuries and arthritic conditions, acute trauma and ongoing inflammatory conditions. It is an honor for her to apply her aptitude for mathematics and spatial relationships to her patients' care from all walks of life.
Dr. Habacker completed her medical degree at the Medical College of Virginia in Richmond, VA. She completed her surgical residency at SUNY Downstate Medical School in Brooklyn, NY and her orthopedic surgical residencies at Louisiana State University in New Orleans, LA and Long Island Jewish Medical Center in New Hyde Park, NY. Dr. Habacker then went on to complete a hand surgery fellowship at Thomas Jefferson University in Philadelphia, PA. She is an Assistant Clinical Professor and has admitting privileges at Stony Brook University Hospital, Catholic Health Services and Northwell Health hospitals in Suffolk County.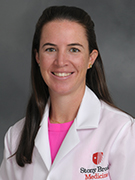 Kristin T. Hopkins, MD (Interim)
Dr. Hopkins is a fellowship-trained orthopedic surgeon specializing in the treatment of all sports and activity-related injuries, both operative and non-operative. She is experienced in arthroscopic and open treatment of hip, knee, ankle, shoulder and elbow injuries. She specializes in surgery of the rotator cuff, labrum and meniscus, as well as ligament and tendon repair/reconstruction of the ankle, knee, elbow and shoulder. Additionally, she has a special interest in cartilage and joint preservation techniques utilized in the treatment of arthritis and cartilage injury in young and active patients.
Dr. Hopkins received her undergraduate degree from Georgetown University, where she played division one field hockey. She received her medical degree from SUNY Downstate College of Medicine, where she graduated with honors as a member of the Alpha Omega Alpha Honor Society. She completed her orthopedic surgery residency at Montefiore Medical Center.
Following residency, Dr. Hopkins completed a sports medicine fellowship at Lenox Hill Hospital in Manhattan. During her fellowship, she received specialized training in minimally invasive and advanced arthroscopic techniques for the treatment of sports-related musculoskeletal injuries. She participated in the care of athletes from the New York Jets, New York Islanders, Manhattanville College and several Westchester high school teams.
In her spare time, Dr. Hopkins enjoys golfing, skiing, running and spending time with her husband and son.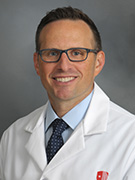 Seth Korbin, MD
 (Interim)
Dr. Korbin has joined Stony Brook Orthopaedic Associates as a fellowship-trained adult joint reconstruction specialist and clinical associate professor at the Renaissance School of Medicine at Stony Brook University. He uses advanced, minimally invasive surgical techniques as well as nonoperative treatments to care for his patients at Stony Brook Southampton Hospital and Stony Brook University Hospital. A native to the East End, Dr. Korbin places an emphasis on individualized treatment plans and patient education: "My singular goal is to address each patient's specific needs in order to achieve superior outcomes and reduce the timeframe needed to return to function."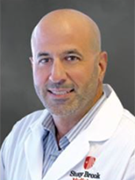 John J. Rongo, MS, PA-C
John Rongo is a physician assistant certified by the National Commission on Certification of Physician Assistants (NCCPA) with a specialization in orthopedics. He received his Bachelor of Science in Physician Assistant Studies at Touro College followed by his master's degree in physician assistant studies. John is a member of the American Academy of Physician Assistants (AAPA), the Association of Physician Assistants in Cardiology (APAC) and the Physician Assistant Education Association (PAEA).
---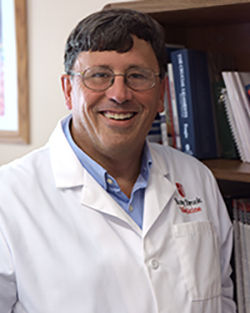 Remembering Fred M. Carter II, MD, FAAOS, FACS (1960 - 2020)
Dr. Carter was the founding physician at North Fork Orthopaedic and Sports Medicine and provided compassionate orthopedic care for more than 20 years to the community.  
 
He was a lifelong Long Islander.  He graduated from Cornell University in 1982 with a double major in biology and physiology. He received his medical education from Columbia University Vagelos College of Physicians and Surgeons. After earning his medical degree, Dr. Carter completed an internship in surgery at St. Luke's Roosevelt Hospital and a residency in orthopedic surgery at the University of Medicine and Dentistry of New Jersey. He completed a fellowship in sports medicine at the Emory Orthopaedic and Spine Center and an orthopedic research fellowship at the George L. Schultz Laboratories for Orthopaedic Research.  
 
The North Fork community is one Dr. Carter was proud to be a part of and serve. His passions in life were his family and his profession, and he approached both with enthusiasm and a smile on his face.