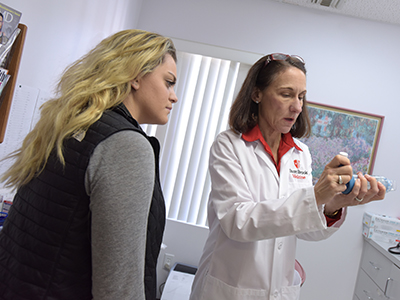 Please select from the links below to download any of our patient forms:
What To Expect On Your First Visit
Please arrive 15 minutes before appointment time to complete paperwork. Make sure you bring your insurance card and co-pay. Bring a list of all the medications you have taken in the last year, and any relevant lab work done in the last 2 years. Please be prepared to be here for at least one hour in order to allow a thorough evaluation.
You will initially be seen by our trained allergy nurse who will obtain vital signs, record your medication list and perform pulmonary function testing if you have any respiratory or cough issues.
You will then spend extensive time with Dr. Cymerman. Much of that time will be discussing why you are here, what evaluation and treatment you have had in the past, and most importantly, what events led up to your current condition. A physical exam relevant to your allergy symptoms will be performed; a loose-fitting shirt is helpful.
Allergy testing via skin prick testing may or may not be performed the first visit, depending on what medications you are taking, what your respiratory status is and other factors. Skin testing can NOT be done if you have NOT eaten in more than an hour, if you are ill, if you have a reduced respiratory status or if you have taken antihistamines in the previous 72 hours. If Dr. Cymerman assesses allergy testing to be appropriate, skin testing will be performed. Please keep in mind skin testing is not appropriate for every patient for a number of possible reasons.
Please do not stop any asthma medications that you are taking under any circumstances.
Feel free to call and ask questions at any time.
Useful Links