STONY BROOK, NY, August 2019—Argen Medical has joined Stony Brook Community Medical, Stony Brook Medicine's expanding network of community practices and physicians. Argen Medical practices obstetrics and gynecology in Port Jefferson Station.
"We are extremely pleased that Dr. Gustavo San Roman is joining the Stony Brook family," said Dr. Todd Griffin, Chair, Department of Obstetrics, Gynecology and Reproductive Medicine, Stony Brook Medicine. "He has been an outstanding Ob/Gyn in the community and a wonderful proponent of women's health." 
Stony Brook Medicine welcomes private practices that are committed not only to the community, but to providing the highest level of quality care. Argen Medical has been providing expert, comprehensive care to women of all ages in the community for more than 30 years. 
"I am very excited to be back at the Stony Brook University Hospital, I have built a practice based on the concept of providing excellent and personalized Ob/Gyn care," said Dr. San Roman of Argen Medical. "With this in mind, I have helped to build many strong families in our community. In fact, I am now taking care of the next generation of women whose births I attended many years ago."
"As a member of Stony Brook Medicine, I have the honor to continue to provide complete personalized Ob/Gyn services in my Port Jefferson Station office and three local hospitals," said Dr. San Roman. 
The Argen Medical team is comprised of Dr. Gustavo San Roman and two nurse practitioners, Laura Doti and Jaclyn Cuccinello. Dr. San Roman and his two nurse practitioners believe that even the smallest detail is extremely important in this endeavor. New patients are welcomed. And as a bilingual practice, they are able to offer comprehensive services to Spanish-speaking patients as well.
Editor's note: Patients who wish to make appointments with a physician at Argen Medical at the Port Jefferson Station office should call 631-331-8777.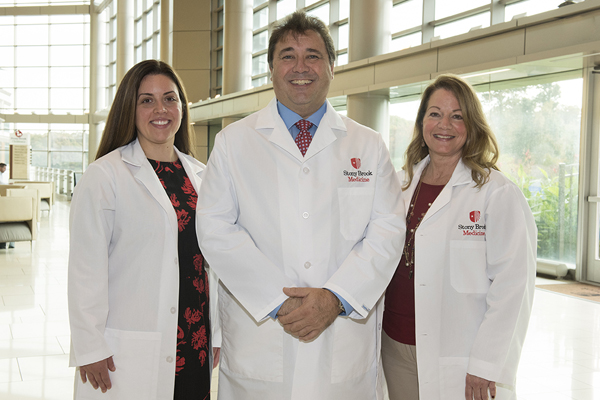 Photo caption: L to R: Jaclyn Cuccinello, NP, Gustavo San Roman, MD and Laura Doti, NP
---
About Stony Brook Medicine
Stony Brook Medicine integrates and elevates all of Stony Brook University's health-related initiatives: education, research and patient care. It includes five Health Sciences schools — Dental Medicine, Health Technology and Management, Medicine, Nursing and Social Welfare — as well as Stony Brook University Hospital, Stony Brook Southampton Hospital, Stony Brook Eastern Long Island Hospital, Stony Brook Children's Hospital and more than 230 community-based healthcare settings throughout Suffolk County. To learn more, visit www.stonybrookmedicine.edu.
About Stony Brook Medicine Community Medical Group 
Stony Brook Medicine Community Medical Group, an arm of Stony Brook Medicine, includes over 35 community practices with over 50 locations across Long Island, from Farmingdale to Greenport. We offer exceptional care by more than 100 providers in 18 specialties committed to enhancing medical care coordination in the community. To learn more, visit www.sbcommunitymedical.org.