Stony Brook Medicine is pleased to announce that Wilson Sze, MD has joined Stony Brook Endocrine Consultants, an endocrinology practice in our network.  
Dr. Sze provides comprehensive care at his office location in Hauppauge. He provides diagnosis and/or treatment for the following: adrenal gland diseases, amenorrhea, diabetes mellitus, diabetes in pregnancy, Graves' disease (hyperthyroid), Hashimoto's disease, hypocalcemia, hypercalcemia, metabolic disorders, osteoporosis, parathyroid disease, pituitary diseases, transgender care, postpartum thyroiditis, thyroid diseases, polycystic ovary syndrome (PCOS) and insulin resistance. 
"I am very excited to be joining the Stony Brook Medicine network," said Dr. Sze. "I look forward to working with the other providers in order to deliver excellent medical care for our patients." 
Dr. Sze is board certified in internal medicine. He attended medical school at the University at Buffalo School of Medicine and Biomedical Sciences and completed his residency training in internal medicine at Stony Brook University Hospital. After his residency, Dr. Sze completed a fellowship in endocrinology at the Renaissance School of Medicine at Stony Brook University, where he served as chief fellow. 
Please join us in welcoming Dr. Sze to our community network. 
Editor's note: Patients who wish to make an appointment with Dr. Sze should call (631) 638-4933.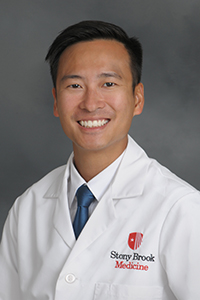 Photo Caption: Wilson Sze, MD
---
About Stony Brook Medicine
Stony Brook Medicine integrates and elevates all of Stony Brook University's health-related initiatives: education, research and patient care. It includes five Health Sciences schools — Dental Medicine, Health Technology and Management, Medicine, Nursing and Social Welfare — as well as Stony Brook University Hospital, Stony Brook Southampton Hospital, Stony Brook Eastern Long Island Hospital, Stony Brook Children's Hospital and more than 230 community-based healthcare settings throughout Suffolk County. To learn more, visit www.stonybrookmedicine.edu.
About Stony Brook Medicine Community Medical Group 
Stony Brook Medicine Community Medical Group, an arm of Stony Brook Medicine, includes over 35 community practices with over 50 locations across Long Island, from Farmingdale to Greenport. We offer exceptional care by more than 100 providers in 18 specialties committed to enhancing medical care coordination in the community. To learn more, visit www.sbcommunitymedical.org.