STONY BROOK, NY, AUGUST 2019 – James Hess, DO has joined Stony Brook Community Medical, Stony Brook Medicine's expanding network of community practices and physicians.  Dr. Hess provides specialty care in endocrinology and sleep medicine to patients in Hauppauge. 
Dr. Hess is an experienced endocrinologist and his practice, Stony Brook Endocrine Consultants, offers diagnosis and treatment for a wide range of conditions. His services include diagnosis and treatment for adrenal gland diseases, thyroid diseases, pituitary diseases, calcium metabolism, diabetes/metabolic disorders, women's reproductive disorders, men's reproductive disorders, obstructive sleep apnea, narcolepsy, insomnia and restless leg syndrome. 
"I am thrilled to return to Stony Brook Medicine," said Dr. James Hess. "I am very pleased to be working with such an excellent medical community and look forward to providing a high-level of care for our patients."
 
Stony Brook Medicine welcomes private practices that are committed not only to the community, but to providing the highest level of quality care.  
Dr. Hess attended medical school at New York College of Osteopathic Medicine and completed his residency at Bassett Medical Center.  After his residency, Dr. Hess completed a fellowship in endocrinology at the Renaissance School of Medicine at Stony Brook University. Once his fellowship was complete, Dr. Hess continued his education by becoming board certified in sleep medicine.
Editor's note: Patients who wish to make appointments with a physician at Stony Brook Endocrine Consultants should call 631-638-4933.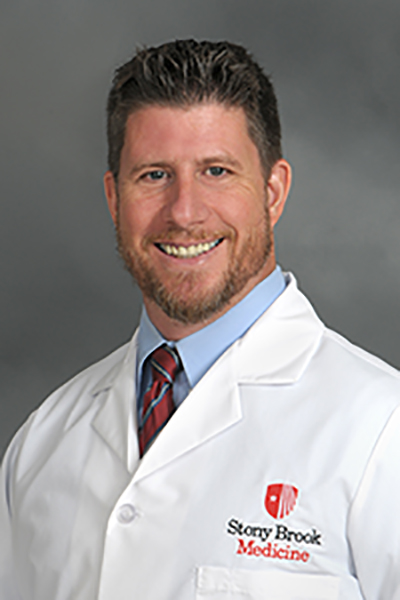 Photo Caption: James Hess, DO
---
About Stony Brook Medicine
Stony Brook Medicine integrates and elevates all of Stony Brook University's health-related initiatives: education, research and patient care. It includes five Health Sciences schools — Dental Medicine, Health Technology and Management, Medicine, Nursing and Social Welfare — as well as Stony Brook University Hospital, Stony Brook Southampton Hospital, Stony Brook Eastern Long Island Hospital, Stony Brook Children's Hospital and more than 230 community-based healthcare settings throughout Suffolk County. To learn more, visit www.stonybrookmedicine.edu.
About Stony Brook Medicine Community Medical Group 
Stony Brook Medicine Community Medical Group, an arm of Stony Brook Medicine, includes over 35 community practices with over 50 locations across Long Island, from Farmingdale to Greenport. We offer exceptional care by more than 100 providers in 18 specialties committed to enhancing medical care coordination in the community. To learn more, visit www.sbcommunitymedical.org.