Ashton L. Stanton, MD and his practice East End Spine and Sports Medicine have joined Stony Brook Medicine Community Medical Group, Stony Brook Medicine's expanding network of community practices and physicians. 
"We are very excited that Dr. Ashton Stanton is joining the Center for Musculoskeletal Health team," said Lawrence Hurst, MD, Professor and Chair of Orthopaedics, Chief of Hand Surgery at Stony Brook Medicine. "His special skills in the area of spinal problems and pain bring a new and important skill set to the Center."
Dr. Stanton provides nonsurgical interventional spine and sports medicine care to Greenport, Hampton Bays and the surrounding communities.
"I was born and raised on Long Island and I am excited to serve the East End communities. My approach to spine and musculoskeletal care is to be aggressive with diagnosis and conservative with treatment," said Dr. Stanton. "I have a specific interest in treating sports-related injuries and returning patients to their highest level of performance at work, sports or recreational exercise. In addition to applying the concept of 'precision medicine', the right treatment to the right patient given at the right time."
"In welcoming Dr. Stanton to the Stony Brook Eastern Long Island Hospital family, we are solidifying our role as the destination of choice for pain management," said Paul Connor III, Chief Administrative Officer, Stony Brook Eastern Long Island Hospital. "I know he shares our commitment to putting patients first and will join us as we focus on delivering exceptional patient outcomes."
Dr. Stanton is an interventional physiatrist who completed his fellowship training in spine and sports medicine at the Hospital for Special Surgery in New York, NY. He completed his physiatry residency at Kingsbrook Rehabilitation Institute in Brooklyn, NY, where he served as chief resident. Dr. Stanton completed a surgical internship at North Shore University Hospital in Manhasset, NY. He earned his medical degree at St. George's University School of Medicine in Grenada, West Indies. 
Editor's note: 
Patients who wish to make an appointment with Dr. Stanton should call (631) 430-2090. 
The practice is accepting new patients and has office hours Monday through Friday.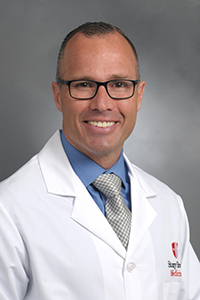 Photo Caption: Ashton L. Stanton, MD
---
About Stony Brook Medicine
Stony Brook Medicine integrates and elevates all of Stony Brook University's health-related initiatives: education, research and patient care. It includes five Health Sciences schools — Dental Medicine, Health Technology and Management, Medicine, Nursing and Social Welfare — as well as Stony Brook University Hospital, Stony Brook Southampton Hospital, Stony Brook Eastern Long Island Hospital, Stony Brook Children's Hospital and more than 230 community-based healthcare settings throughout Suffolk County. To learn more, visit www.stonybrookmedicine.edu.
About Stony Brook Medicine Community Medical Group 
Stony Brook Medicine Community Medical Group, an arm of Stony Brook Medicine, includes over 35 community practices with over 50 locations across Long Island, from Farmingdale to Greenport. We offer exceptional care by more than 100 providers in 18 specialties committed to enhancing medical care coordination in the community. To learn more, visit www.sbcommunitymedical.org.