John Roe, MD has joined North Fork Orthopaedic and Sports Medicine in Mattituck, a full-service orthopaedic practice in Stony Brook Medicine's expanding network of community practices and physicians.
Dr. Roe is a fellowship-trained orthopaedic sports medicine surgeon specializing in treating all sports and activity-related injuries, both operative and nonoperative. He has specialized training in anatomic and reverse shoulder replacements for arthritis and fractures.
"We are very excited to have Dr. John Roe join the team at the Center for Musculoskeletal Health," said Lawrence Hurst, MD, Professor and Chair of Orthopaedics, Chief of Hand Surgery at Stony Brook Medicine. "Dr. Roe will be providing orthopaedic care on the North Fork of Long Island and working at Eastern Long Island Hospital. He is an outstanding addition to our team."
"I am elated to welcome Dr. Roe to Stony Brook Eastern Long Island Hospital and the North Fork, his expertise and specialized training will be a great asset to our hospital and community," said Paul Connor III, Chief Administrative Officer, Stony Brook Eastern Long Island Hospital. 
Dr. Roe received his undergraduate degree from Stanford University and his medical degree from Albert Einstein College of Medicine. He completed his orthopaedic surgery residency at Montefiore Medical Center. Following his residency, Dr. Roe completed a sports medicine fellowship at Memorial Hermann IRONMAN Sports Medicine Institute at Memorial City Medical Center. During his fellowship, he received specialized training in minimally invasive and advanced arthroscopic techniques for the treatment of sports-related musculoskeletal injuries. He served as an assistant team physician for the Houston Texans, Houston Astros, Houston Rockets, University of Houston and Deer Park High School in Deer Park, TX.
"I am looking forward to being a part of the North Fork community and providing exceptional care for my patients to help them live their best lives," said Dr. Roe. 
Dr. Roe is an Assistant Clinical Professor in the Department of Orthopaedic Surgery at Stony Brook University Hospital and serves as the Director of Orthopaedic Surgery at Stony Brook Eastern Long Island Hospital.
Editor's note: 
Patients who wish to make an appointment with Dr. Roe should call (631) 298-4579. The practice is always accepting new patients and has office hours Monday through Friday.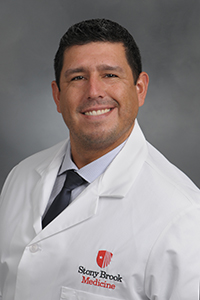 Photo Caption: John Roe, MD
---
About Stony Brook Medicine
Stony Brook Medicine integrates and elevates all of Stony Brook University's health-related initiatives: education, research and patient care. It includes five Health Sciences schools — Dental Medicine, Health Technology and Management, Medicine, Nursing and Social Welfare — as well as Stony Brook University Hospital, Stony Brook Southampton Hospital, Stony Brook Eastern Long Island Hospital, Stony Brook Children's Hospital and more than 230 community-based healthcare settings throughout Suffolk County. To learn more, visit www.stonybrookmedicine.edu.
About Stony Brook Medicine Community Medical Group 
Stony Brook Medicine Community Medical Group, an arm of Stony Brook Medicine, includes over 35 community practices with over 50 locations across Long Island, from Farmingdale to Greenport. We offer exceptional care by more than 100 providers in 18 specialties committed to enhancing medical care coordination in the community. To learn more, visit www.sbcommunitymedical.org.