Stony Brook Medicine is pleased to announce that Meaghan André, DO has joined Southampton Pediatric Associates, a pediatric practice in our network.
Dr. André provides comprehensive care to children from birth through 21 years in Southampton, Hampton Bays and the surrounding communities.
"I am very excited to join Southampton Pediatric Associates," said Dr. André. "I look forward to providing excellent pediatric care, promoting overall wellness and advocating for children in our community." 
Dr. André received her medical degree from Edward Via College of Osteopathic Medicine in Blacksburg, Virginia. She went on to complete a pediatric residency at Goryeb Children's Hospital in Morristown, New Jersey where she collaborated with 10 New Jersey pediatric residency programs to build a strong partnership with the community to address childhood needs as well as strengthening resident advocacy training.
Please join us in welcome Dr. André to our community network.
Editor's note: Patients who wish to make an appointment with Dr. André should call the Southampton office at (631) 283-7733 or the Hampton Bays office at (631) 728-5300.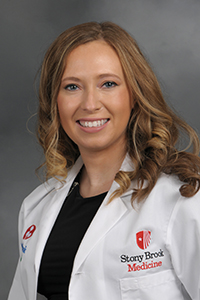 Photo Caption: Meaghan André, DO
---
About Stony Brook Medicine
Stony Brook Medicine integrates and elevates all of Stony Brook University's health-related initiatives: education, research and patient care. It includes five Health Sciences schools — Dental Medicine, Health Technology and Management, Medicine, Nursing and Social Welfare — as well as Stony Brook University Hospital, Stony Brook Southampton Hospital, Stony Brook Eastern Long Island Hospital, Stony Brook Children's Hospital and more than 230 community-based healthcare settings throughout Suffolk County. To learn more, visit www.stonybrookmedicine.edu.
About Stony Brook Medicine Community Medical Group 
Stony Brook Medicine Community Medical Group, an arm of Stony Brook Medicine, includes over 35 community practices with over 50 locations across Long Island, from Farmingdale to Greenport. We offer exceptional care by more than 100 providers in 18 specialties committed to enhancing medical care coordination in the community. To learn more, visit www.sbcommunitymedical.org.