It's happened! Stony Brook University Hospital just had its 100,000th delivery!
We're pleased and excited to welcome Luca Picarella, son of Katie and Mike Picarella from Rocky Point. Luca was born on Monday, August 17 at 8:09 am, weighing 8 pounds, 9 ounces, and measuring 20.75 inches. Click here to read more in the press release.
| | |
| --- | --- |
| VIDEO: Some very special Stony Brook delivery stories | VIDEO: A Message from our Chair of Obstetrics and Gynecology |
| | |
---
See some of Stony Brook's own — faculty, staff and students — who were born at Stony Brook University Hospital

Delivering at Stony Brook – the poop, the scoop, the lowdown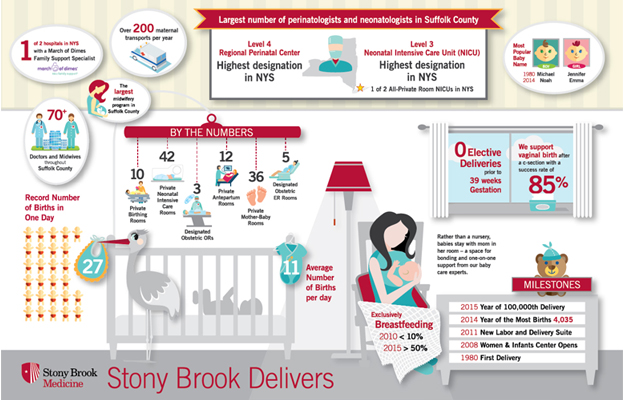 (click image to enlarge)

The Stony Brook Birth Experience
Stony Brook University Hospital is proud to have helped thousands upon thousands of families throughout Long Island and the greater NY region grow their families.

Much has changed since May 1980 when the first baby, Jeffrey Solomon, now 35 years old, was delivered at Stony Brook University Hospital, including a relocation to a modern, new space with all the services that comprise maternal-fetal medicine. Now, we have a unit completely dedicated to labor and delivery, antepartum care, mother-baby recovery and neonatal intensive care. As the only area hospital to earn the highest state designations as a regional perinatal center and a neonatal intensive care unit (NICU) facility, Stony Brook University Hospital is ready and able to handle every type of delivery, including the most complicated ones.
Stony Brook is also one of the only facilities in the New York region to provide all-private rooms in both the mother-baby unit and NICU. Research has shown there are many benefits of having a comfortable, supportive environment, where mothers can recuperate and bond with their newborns. At Stony Brook, babies stay with their moms and dads as much as possible, and skin-to-skin contact is encouraged, with breastfeeding consultants nearby to offer support and guidance.
And while a lot has changed over the years, what hasn't is the dedication of our staff – doctors, midwives, nurses and support staff – ensuring that families receive the best possible care and support when coming to Stony Brook to have their babies – whether it's their first, their fourth or even their tenth!

Here's to the next 100,000 deliveries! We're looking forward to each and every one.