About Us
Stony Brook Endocrine Consultants, in collaboration with Stony Brook Medicine, is a community-based endocrinology practice addressing health care in Hauppauge and the surrounding communities. Our physicians and medical staff are committed to the provision of excellent preventive medical care and assisting patients in navigating complex health care for their medical conditions. Our goal at Stony Brook Endocrine Consultants is for you to feel confident about the quality and coordination of the medical care you receive. We are continuously investing in new practices, technologies and procedures to help enhance our ability to provide more effective and consistent communication regarding your health. 
---
Our Physician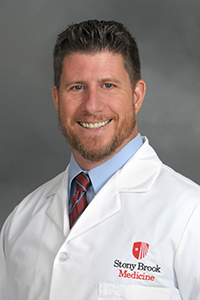 Dr. Hess specializes in endocrinology, diabetes and metabolism, sleep medicine and internal medicine. He has been providing patient care for more than 15 years. 
Dr. Hess attended medical school at the New York College of Osteopathic Medicine and completed his residency at Columbia-Bassett Hospital.  After his residency, Dr. Hess completed a fellowship in endocrinology at the Renaissance School of Medicine at Stony Brook University.