Outpatient Physical and Occupational Therapy is located in a 10,000 square foot, state-of-the-art facility at Technology Park in East Setauket. Located in this building are outpatient physical therapy, phase II cardiac rehab, pelvic floor therapy, lymphedema therapy, and occupational therapy.
Stony Brook Outpatient Physical Therapy offers the most diverse therapy services in Suffolk County. Skilled physical therapists perform individualized patient evaluations to assess musculoskeletal, functional, and neuromuscular status. Treatment programs are designed to meet each patient's individual needs. To facilitate rehabilitation, equipment includes a computerized balance training equipment, and a full range of exercise equipment, and therapeutic modalities. Locker rooms are available for patient convenience.
The Cardiac Rehabilitation Program is designed to meet the diversified needs of patients with cardiac conditions. The goal of the rehabilitation program is to enhance a patient's physical endurance and strength following a cardiac event. This is accomplished through a coordinated program involving a skilled team of medical professionals including a physician, registered nurse, and physical therapist. Each patient receives a comprehensive evaluation and a customized exercise plan. Patients are seen 3 times a week for rehabilitation exercise and are monitored by the cardiac team with the use of telemetry equipment.
The Pelvic Floor Program at Stony Brook treats patients who are experiencing pelvic floor dysfunction with symptoms such as urinary incontinence or frequency, pelvic pain, or difficulty with bowel control, constipation, and evacuation. The evaluation performed by the specially trained therapist will help design a specific treatment plan for the needs of the patient. By combining physical therapy techniques, behavioral strategies, and exercise, the patients are taught to relax tense muscles, strengthen weak muscles, and coordinate muscle activity.
The Lymphedema Program at Stony Brook is staffed by physical therapists who have completed advanced lymphedema certification training. Our services include complete decongestive therapy (CDT). CDT combines manual lymph drainage (fluid reducing massage), use of low stretch bandaging techniques, compression garments, therapeutic exercise, and meticulous skin care to reduce the lymph swelling and enhance lymphatic flow.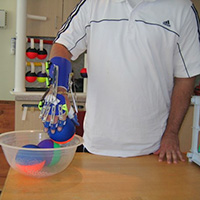 Outpatient Occupational Therapy provides rehabilitative, habilitative, and compensatory treatment to optimize an individual's independence throughout their lifespan. The occupational therapist provides evaluations and individualized treatment plans for people with a wide range of illnesses and injuries such as arthritis, burns, cancer, neurological disorders, orthopedic and repetitive strain injuries. Skilled therapeutic and functional techniques are used to improve: upper extremity range of motion, strength, tone, coordination, and dexterity; visual, perceptual, and cognitive performance; as well as activities of daily living (i.e. self-care, home management, work, and leisure activities). Patients are educated and trained in the use of adaptive equipment/techniques and environmental modifications. The occupational therapist is also skilled in the fabrication of splints. The goal of Occupational Therapy is to assist in improving an individual's overall quality of life.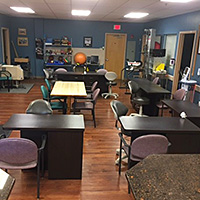 Hand Rehabilitation is also located in Technology Park in East Setauket and is a healthcare service provided by skilled occupational and physical therapists who have received advanced training in this area. Hand therapists perform evaluations and develop individualized treatment programs for a range of acute injuries, as well as post-surgical and chronic conditions involving the hand, wrist, and/or elbow. Hand Rehabilitation uses its high degree of specialization and clinical expertise to help patients return to their daily activities.