About Us
We are a community-based pediatric practice providing health care in Mastic and the surrounding area. Our goal is for you to feel confident about the quality and coordination of the medical care you receive, whether it's a one-time acute event, a chronic condition or any type of health concern in between. We're continuously investing in new practices, technologies and procedures to help enhance our ability to provide more effective and consistent communication about information regarding your health.
 
---
Our Practice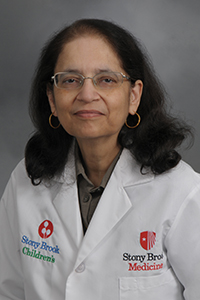 Farzana Ahsan, MD, FAAP
Dr. Ahsan specializes in pediatric and adolescent medicine and has provided comprehensive patient care for more than 30 years in Mastic and the surrounding communities.
Dr. Ahsan completed her medical degree at Dow Medical College in Karachi, Pakistan and completed her pediatric residency at Maimonides Medical Center. After her residency, Dr. Ahsan completed a fellowship in ambulatory pediatrics at Nassau University Medical Center.