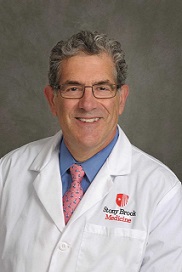 The Department of Urology is committed to fulfilling Stony Brook Medicine's mission of excellence, patient care, and research through our initiative to develop the Men's Health Program. This is a comprehensive, multidisciplinary program for men with sexual and urinary dysfunction. As you peruse our website, you'll find information about the various conditions that are unique to men, and the most minimally invasive and state-of-the-art treatment options available.
Our Men's Health experts have completed fellowships and extensive training in sexual dysfunction, voiding (urinary) dysfunction, male-factor infertility, prosthetics, prostate cancer and urologic oncology, robotic surgery, and microsurgery.
The Men's Health Program prides itself in giving back to the community through various outreach events. Our experts offer free educational seminars on Men's Health conditions, and provide free prostate screenings to men ages 55 and older.
We are committed to providing high quality, comprehensive care to men all over Long Island.
We encourage you to explore our website to learn more about how our Men's Health Program can improve your quality of life!
Wayne C. Waltzer, MD, FACS
Professor and Chairman, Department of Urology