Shannen Harbourne, RN, BSN, MS, OCN
---
Nurse Navigator for the Department of Urology
---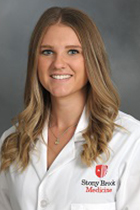 My name is Shannen Harbourne. I am a cancer program nurse for the Department of Urologic Oncology. My role is to work together with the interdisciplinary care team to assist in the coordination of patient care. I can also help to arrange supportive services, including but not limited to, nutrition, social work, financial navigation, education and community organizations. In addition, I also arrange prostate cancer screenings at Stony Brook for eligible patients and work to set appropriate patients up with genetic counseling and clinical trials.
If you are interested in any of the above services or would like to become a patient of Stony Brook Urology, please do not hesitate to contact me at (631) 216-2768
The team leader for Urologic Oncology is Wayne Waltzer, MD. Dr. Waltzer is a urologist, a surgeon and also the Chairman of the Department of Urology at Stony Brook Medicine. Dr. Waltzer and the team specialize in the diagnosis and treatment malignant (cancerous) tumors of the prostate, urinary bladder, ureter, adult kidney and male genitalia.
---
Education

MS with a concentration in Nursing Leadership from SUNY Stony Brook

BSN- Bachelors Degree in Nursing at SUNY Farmingdale (2015)

Associate Degree in Nursing at SUNY Farmingdale (2014)

Professional Organizations

Professional Nurses Association of Suffolk County (PNASC)
Oncology Nurses Society (ONS)

Clinical Expertise

Procedures and Services

Patient Navigation

Prostate Cancer Screening

Clinical Trial Liaison

Assist with Coordination of Genetic Counseling

Hospital Affiliation

Stony Brook University Hospital

Contact Information
Department of Urology
Health Sciences Center T9-040
Stony Brook Medicine
Stony Brook, NY 11794-8093
(631) 216-2768
Appt: (631) 444-6270
Practice Locations
---
Stony Brook Cancer Center
3 Edmund Pellegrino Drive
Stony Brook, NY 11794
---
East Setauket
24 Research Way
Suite 500
East Setauket, NY 11733