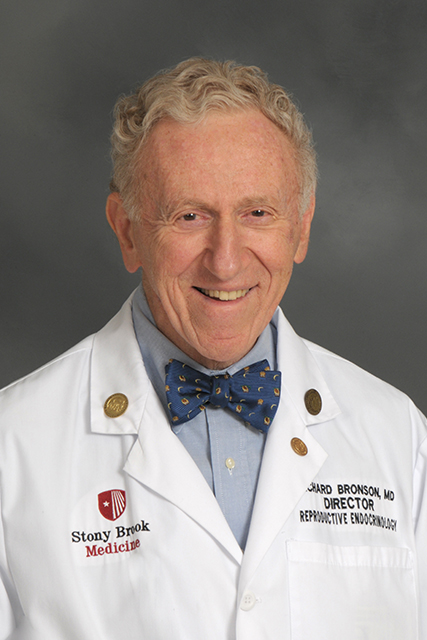 Richard Bronson, MD, is Professor of Obstetrics & Gynecology and Pathology at Stony Brook University Medical Center and Director of Reproductive Endocrinology. He is a Fellow of the American College of Obstetrics and Gynecology (holding boards in obstetrics & gynecology and reproductive endocrinology), a current member of the Endocrine Society, The Society of Reproductive Endocrinologists, the American Institute of Ultrasound Medicine, and the American Society of Reproductive Medicine, having been a post-graduate course director for that society, and has served as a member of the Committee on Biotechnology of the New York State Bar Association.
Dr. Bronson grew up in a medical household, his dad a general practitioner in the days when doctors made house calls. His own medical practice style has been strongly influenced by that experience. He is a recipient of the Leonard Tow Humanism in Medicine Award of the Arnold P. Gold Foundation. He has always been interested in the "why" of things and has a strong desire to delve deeply into issues, perhaps due to his undergraduate training at the Massachusetts Institute of Technology (MIT). He graduated from the New York University School of Medicine (as did his father), with Honors. After an internship at Bellevue Hospital and two years of pioneering research on embryo transfer sponsored by the National Institute of Health (NIH), he did a residency in obstetrics & gynecology at the Hospital of the University of Pennsylvania and a fellowship in reproductive endocrinology & infertility at the Pennsylvania Hospital, in Philadelphia. 
Dr. Bronson returned to New York following a two-year tour of active duty in the U.S. Army Medical Corps at Tripler Army Medical Center, in Honolulu, Hawaii, working initially at North Shore University Medical Center, then at Stony Brook. Over his career, he has had the opportunity to interact with a varied group of clinicians and scientists of many backgrounds, both locally and nationally. He has served as President of the American Society of Reproductive Immunology and has been an Associate Editor of the journals Human Reproduction, the American Journal of Reproductive Immunology, and Reproduction, and Section Editor of Reproductive Biology & Medicine Online (RBMO). He is the primary author of more than 80 peer-reviewed research papers. Dr. Bronson has been active for many years treating couples with infertility and working to understand its causes. He feels fortunate to have had the opportunity to play a significant role in providing excellent clinical care, advancing medicine through the acquisition of new knowledge, and transmitting that knowledge to future doctors.