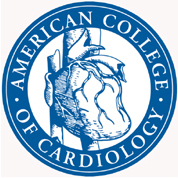 The American College of Cardiology is a professional society of over 23,000 cardiovascular physicians and scientists from around the world. The College is more than a medical society or association to its members, as physicians and scientists must meet rigorous criteria to become members of the College. Cardiovascular physicians and scientists can apply to the College for different levels of membership, ranging from Affiliate to Fellow.
"FACC" (Fellow, American College of Cardiology) in a physician or scientist's title is widely acknowledged as an insignia of prestige and quality for those who provide cardiovascular care. Indeed, FACC is a sign of significant accomplishment and commitment to a profession, to a specialty, and to the provision of the best health care for the patient.
The College was chartered and incorporated as a teaching institution in 1949, and established its headquarters, called Heart House, in Bethesda, Maryland, in 1977. Its mission is to foster optimal cardiovascular care and disease prevention through professional education, promotion of research, leadership in the development of standards and guidelines and the formulation of health care policy.
The College represents the majority of board certified U.S. cardiovascular physicians, including adult cardiologists, cardiovascular surgeons, and pediatric cardiologists.