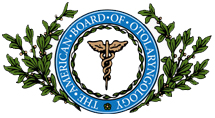 In 1924, the American Board of Otolaryngology (ABOto) was established to certify head and neck surgeons through a process that includes residency training, certification exams, and, since 2002, the Maintenance of Certification process. The ABOto's fiduciary responsibility is to the public. Although the ABOto carefully considers the concerns of and impact on our diplomates, it is what is in the public's best interest that guides the ABOto's decision-making process.

Mission Statement:

The ABOto's mission is to assure the public that, via its process of certification and lifelong maintenance of certification, its diplomates have met the ABOto's professional standards of training and knowledge in otolaryngology–head and neck surgery.

Meaning of Certification

While licensure by the individual states sets the minimum competency requirements to practice medicine, it is not specialty specific. Board certification is a voluntary program in which specialists seek to improve their performance and demonstrate a commitment to their profession. Board certified otolaryngologists must meet the ABOto training requirements, pass psychometrically validated examinations, and participate in Maintenance of Certification.

The ABOto views certification as not just passing the examinations, but a continuum beginning with entry into training and ends with retirement. In order to be eligible to take the certification examinations, candidates must be registered with the ABOto Resident Registry by their program director at the beginning of their training, which includes verification of graduation from medical school. The program director provides the ABOto with an annual evaluation of each resident and determines whether the resident should receive credit for completion of that year of training. Applicants are required to have completed an ACGME-accredited residency and receive approval from their program director to sit for the examinations.
The ABOto is an independent, non-profit organization with worldwide recognition. It is one of the 24 certifying boards that are members of the American Board of Medical Specialties.