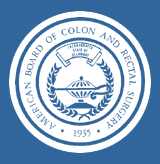 A board certified colon and rectal surgeon has successfully completed at least a five-year ACGME-approved training program in general surgery and one additional year in an ACGME-approved colon and rectal surgery residency. He/She has then passed both the Written (Qualifying) and Oral (Certifying) Examinations given by the American Board of Colon and Rectal Surgery.
The ABCRS requires certification by the American Board of Surgery for all candidates entering the examination process.
In addition to having proficiency in the field of general surgery, colon and rectal surgeons have acquired particular skills and knowledge with regard to the medical and surgical management of diseases of the intestinal tract, colon and rectum, anal canal, and perianal area.
Colon and rectal surgical specialists also have special skills in the performance of endoscopic procedures of the rectum and colon and evaluation of the anal sphincter and pelvic floor using anorectal physiology techniques. Colon and rectal surgical residency programs now provide training in minimally invasive abdominal surgery involving the colon and rectum.
A colon and rectal surgeon has been trained to deal with conditions such as, but not limited to, colon and rectal cancer, polyps, inflammatory bowel disease, diverticulitis, as well as anal conditions such as hemorrhoids, fissures, abscesses, and fistulas. Training in colon and rectal surgery also provides the specialist with in-depth knowledge of intestinal and anorectal physiology required for the treatment of problems such as constipation and incontinence.
Board certified colon and rectal surgeons are committed to the highest standards of care for patients having diseases affecting the intestinal system.