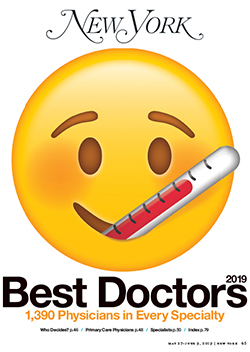 New York Magazine's "Best Doctors" 2019 issue features these physicians from Stony Brook Medicine:
The doctors are selected by Castle Connolly Medical Ltd. each year through a peer-review survey. Licensed physicians vote online for doctors they view as exceptional. Participating physicians are asked to nominate those doctors who, in their judgment, are the best in their field and related fields, taking into account not only professional qualifications and reputation, but also skills in dealing with patients. Doctors cannot nominate themselves, and all nominations are confidential.
The 1,390 New York Magazine honorees are a smaller subset of the annual Castle Connolly list from its guidebook Top Doctors: New York Metro Area, which lists those whom Castle Connolly considers among the top 10 percent of the region's physicians, nearly 6,000 in all this year.