Welcome to Play Fit - Stay Fit!
Thank you for supporting the 9th Annual Bench 5K! The 10th Annual Bench 5K is on Saturday, May 12, 2018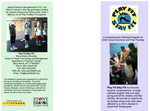 Play Fit-Stay Fit! is a fun and dynamic comprehensive 12-week wellness program that runs each spring and fall for children and their families. We provide an opportunity for families whose lives have been affected by a child's disease to renew their fitness goals.
---
What does Play Fit-Stay Fit! offer?

Fun and dynamic physical fitness programs to help your child improve:

strength

coordination

mobility

balance

endurance

sensation

Psychosocial counseling for both you and your child

Nutritional education