Listen. Learn. Laugh. Share.
Saturday, October 20, 2018
8:30 am to 2 pm
Advanced Specialty Care
500 Commack Road, Commack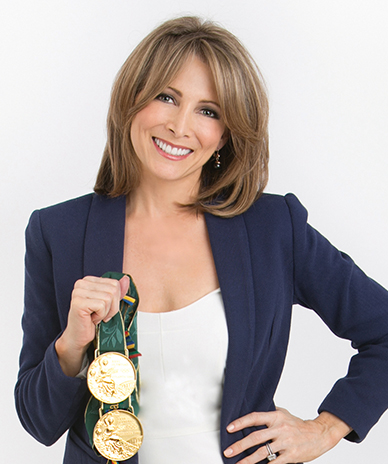 Keynote speaker:
Shannon Miller
Seven-time Olympic medalist Shannon Miller is the most decorated American gymnast in history and the only female athlete inducted into the U.S. Olympic Hall of Fame – twice.

Miller is also an author, TV and radio host, motivational speaker and advocate for the health and wellness of women and children. As an Olympian, wife, mother and cancer survivor, she is dedicated to helping women make their health a priority.
At Women's Health Day, Miller will speak about "Competing with Cancer," where she will address what it felt like to be diagnosed with cancer, making a game plan just as she did in her training days and going for her goal — survivorship.
The event kicks off with 10 Stony Brook Medicine experts sharing the latest information, research and thinking about topics that concern women most. Stony Brook's healthcare professionals will also be on hand providing information at exhibit tables on the following topics: breast cancer, falls prevention, healthy eating, imaging, vascular health, vein care and weight-loss options.
Registration and Continental Breakfast — 8:30 to 9 am
Session One Seminars — 9 to 9:40 am
Session Two Seminars — 10 to 10:40 am
Session Three Seminars — 11 to 11:40 am
Box Lunch — noon to 1 pm
Keynote Address — 1 to 1:45 pm
Conclusion — 2 pm
Session One — 9 to 9:40 am

Rolling Back the Clock: The Latest Procedures and Therapies for Hair and Skin
Speaker: Adrienne Haughton, MD
Dermatologist, Stony Brook Medicine

Learn ways to roll back the clock with simple procedures to remove the signs of aging. Dr. Haughton will review the latest in-office procedures to remove seborrheic keratoses (brown patches on the skin that increase with age), soften wrinkles and treat a double chin. Alopecia (hair loss) affects 50 percent of women and becomes more prevalent with increasing age. Whether your hair is thinning, you have noticed more "shedding" or perhaps you have well defined areas of hair loss, Dr. Haughton will help you understand the various causes of alopecia and the latest therapeutic options aimed at increasing the thickness of your hair.

What Every Woman Should Know About Breast Cancer
Speaker: Patricia Farrelly, MD
Breast and Oncologic Surgeon, Stony Brook Medicine

Learn about the various screening methods for the detection of breast cancer, maintenance of health to reduce the risk of breast cancer, as well as the latest advances in surgical options and treatments.

Pelvic Floor Disorders Affect One in Four Women: What You Need to Know
Speaker: Hafsa Memon, MD
Urogynecologist/Female Pelvic Medicine and Reconstructive Surgeon, Women's Pelvic Health and Continence Center, Stony Brook Medicine

Speaker: Steven Weissbart, MD
Female Pelvic Medicine and Reconstructive Surgeon, Women's Pelvic Health and Continence Center, Stony Brook Medicine

Female pelvic disorders refer to a common group of conditions that affect women of all ages and result from weakness of the structural or functional support of the pelvic organs. This includes a dropped bladder or uterus, inability to "hold" your bladder, difficulty emptying your bladder, bowel "accidents" or sometimes difficulty emptying your bowel. Drs. Memon and Weissbart will help you understand more about these disorders and the wide range of individualized, effective treatment options available.

Session Two — 10 to 10:40 am

Sacroiliac Dysfunction: An Under-Recognized Source of Low Back Pain in Women
Speaker: Donald S.F. Macron, MD, MA
Spine Physiatrist, Stony Brook University Neurosciences Institute

Not all "back" or "hip" pain is the same, and should not be treated the same, either – proper treatment of these issues relies on correctly diagnosing the source of the pain. Dr. Macron will give an overview of a common – but commonly overlooked – source of lower back and hip pain that preferentially affects adult women. Discussion will include a review of why this pain develops, how to identify it, other sources of similar pains, and options for evaluation and management in both the short and long term.

Taking Steps to Stop Diabetes Before It Starts
Speaker: Deirdre Cocks Eschler, MD
Endocrinologist, Stony Brook Medicine

Find out if you are at risk for developing type 2 diabetes and learn about the steps you can take to help delay or even prevent the condition. Research studies have shown that moderate weight loss and exercise can have a positive impact in adults at high risk of diabetes. Learn how making simple changes in your diet and exercise routine can go a long way to improve your overall health.

Women and Dry Eye
Speaker: Sarah B. Weissbart, MD
Ophthalmologist, Cornea and External Disease Specialist, Stony Brook Medicine

Do you experience chronic burning or redness in your eyes, or does your vision seem to fluctuate throughout the day or depending on your environment? Dry eye disease is a complex condition that affects millions of people worldwide. Learn about the risk factors and treatment options for dry eye and why you may be at increased risk as a woman.

Session Three — 11 to 11:40 am

Heart Disease in Women
Speaker: Puja Parikh, MD
Interventional Cardiologist, Stony Brook University Heart Institute

Although heart disease is sometimes thought of as a "man's disease," around the same number of women and men die each year of heart disease in the U.S. However, the symptoms and risk factors for women can be different than for men. Learn what they are and what new procedures and treatments are available.

Why Does My Foot Hurt? From Bunions to Heel Pain
Speaker: Megan Paulus, MD
Orthopaedic Surgeon, Fellowship-Trained Foot and Ankle Specialist, Stony Brook Medicine

Have you noticed an increase in foot pain as you age? Dr. Paulus will discuss foot pain and the remedies/options for treatment of these ailments, including bunions, hammertoes, neuromas, arthritis and plantar heel pain.

Is Memory Loss Part of Normal Aging?
Speaker: Nikhil Palekar, MD
Director of Geriatric Psychiatry and Medical Director, Center of Excellence for Alzheimer's Disease, Stony Brook University Neurosciences Institute

Learn to recognize the differences between changes that occur as part of normal aging and those that might indicate a cognitive disorder like Alzheimer's disease. The rate of Alzheimer's increases with age, and as women typically live longer than men, more women tend to develop the disease. Dr. Palekar will discuss the importance of early diagnosis and intervention in slowing the progression of memory loss and how Alzheimer's can be affected by hormonal changes associated with menopause. He will also share information about lifestyle changes that have shown to have a positive effect on slowing the progression of memory loss.

To learn more about our speakers and the topics they will address, call (631) 444-4000.

Photographs and/or video taken during the course of this event may be used in future advertising and promotion of Stony Brook University and/or Stony Brook Medicine.

For accessibility-related accommodations, please call (631) 444-4000.