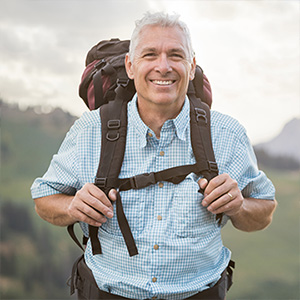 Innovative, minimally invasive outpatient surgery relieves symptoms of an enlarged prostate while preserving urinary and sexual function.
Today there are an estimated 500 million men worldwide who suffer with the symptoms and discomfort and Benign Prostatic Hyperplasia (BPH), or enlarged prostate, a non-cancerous condition that can dramatically affect bladder function. Currently accepted treatments, which can involve surgery or medications, may not only be ineffective but can also have side effects such as incontinence and loss of sexual function. If left untreated, BPH can also cause permanent bladder damage.
However, an FDA-approved treatment, the Urolift® System, is providing new hope for these men. The system employs a minimally invasive outpatient procedure that implants tiny sutures to separate the enlarged prostate lobes. The system is designed to enable normal urination flow and preserve sexual function.
Since its approval in 2013, the procedure has been completed more than 60,000 times and has recently been added to the American Urological Association treatment guidelines for BPH.
On June 20, Stony Brook urologist, David L. Peters, DO, along with other physicians at Stony Brook University Hospital, successfully performed the first Urolift® System surgery in Suffolk at the hospital's Ambulatory Surgery Center. Having this advanced treatment available to our patients is expected to provide dramatic quality of life improvement for patients with BPH.
Symptoms of BPH include an urgent need to urinate, difficulty starting your urine stream, need to push or strain when urinating, dribbling, the sensation that the bladder is not empty after urinating, weak urine flow, the need to urinate more often, frequent nighttime urination and burning or pain during urination.
If you are experiencing any of these symptoms, contact Stony Brook Urology at (631) 689-8333 for an appointment at one of our convenient practice locations. If your symptoms are connected to BPH, your urologist will discuss whether you are a good candidate for the Urolift® procedure.