About female reconstructive surgery:
Reconstructive surgery is used to restore the organs of the pelvic floor to their normal position. The surgery used for this condition is a robotic assisted sacrocolpopexy .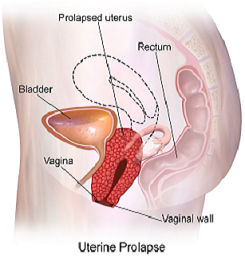 Who is eligible for female reconstructive surgery?
Women with pelvic floor prolapse caused by damage during childbirth or suffering from urinary incontinence.
What does surgery involve?
At Stony Brook, we utilize the da Vinci Robot to insert a small telescope and make several incisions to the prolapsed organs. With the help of the da Vinci Robot, the surgeon can use specially designed tools to attach a graft of tissue or synthetic mesh onto the pelvic organs. The graft is then attached to a bony area, allowing the organs to be placed back to their normal position.
After the surgery:
May experience back pain and constipation for 2-4 weeks
Return to normal activities level gradually
Gentle/walking or swimming is allowed
Avoid heavy lifting and strenuous exercise
No sexual intercourse for 6 weeks
Are there any post-surgery complications?
There is the possibility of mesh erosion or infection if the mesh moves from the vaginal wall into nearby organs.
Meet our Female Reconstructive Surgery Surgeons:

Jason M. Kim, MD
Assistant Professor
Female Urology
Voiding Dysfunction
Pelvic Floor Reconstruction


Steven Weissbart, MD


Assistant Professor




Female Urology




Voiding Dysfunction




Pelvic Floor Reconstuction