Melanie Dale, RN, BS, OCN
---
Nurse Navigator for the Department of Urology
---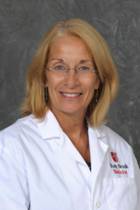 My name is Melanie Dale. As a registered nurse and the nurse navigator for the Urologic Oncology Team, this means I am your central point of contact during your journey with us. I will help coordinate components involved in your care including surgical, medical and radiation services, if needed. Also, I can arrange appointments with a social worker or nutritionist when appropriate. I can refer you to our staff members who will help you with financial and insurance concerns. I will make sure you have access to our educational materials and community organizations that offer additional support.
I will follow-up with you to check on your progress or answer questions or concerns. If you have a question or need to contact me you can reach me at (631) 444-1948.
The team leader for Urologic Oncology is Wayne Waltzer, MD. Dr. Waltzer is a urologist, a surgeon and also the Chairman of the Department of Urology at Stony Brook Medicine. Dr. Waltzer and the team specialize in the diagnosis and treatment malignant (cancerous) tumors of the prostate, urinary bladder, ureter, adult kidney and male genitalia.
Thank you for your interest in our department and the services we provide.
Please feel free to contact me with your questions whether you are an established client with us or you are considering becoming one. It would be my pleasure to assist you. Please call (631) 444-1948.
---
Certifications

Ceritification in Oncology by ONCC

Professional Organizations

Professional Oncology Nursing Society (Present)

Clinical Expertise

Education

Bachelor Degree in Community Health


from St. Joseph's College, Patchogue, NY (2000)

Associate Degree in Professional
Nursing

from SUNY Farmingdale (1975)

Hospital Affiliation

Stony Brook University Hospital

Contact Information
Department of Urology
Health Sciences Center T9-040
Stony Brook Medicine
Stony Brook, NY 11794-8093
(631) 444-1948
(631) 444-7620
Appt: (631) 444-6270
Practice Locations
Stony Brook Cancer Center
3 Edmund Pellegrino Drive
Stony Brook, NY 11794