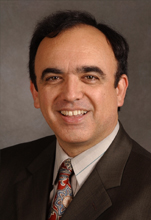 As waiting lists for transplants continue to grow, Stony Brook University Hospital, a part of Stony Brook Medicine, Transplantation Services is offering the option of Living Donor Kidney Transplantation to more and more patients. The Hand Assisted Laparoscopic techniques offer a less invasive way to donate a kidney to a loved one.
Previously, donor nephrectomy utilized a flank incision 6-9 inches long for the surgeon to gain access for kidney removal, with an average hospital stay of 5-7 days. With laparoscopy, instruments can be inserted through small puncture sites on the abdomen to dissect and free up the kidney and its blood supply and urinary drainage so that it can be removed through a small incision. The kidney is taken immediately to the adjacent operating room where it is successfully transplanted. With the smaller incision, pain is decreased, hospitalization is reduced to 2-3 days, and full recovery with return to work is faster (2-3 weeks instead of 4-6 weeks on the average).
Results in the donors and the transplant recipients via this new technique have been excellent. With this technique, more loved ones may be interested in considering kidney donation. Potential donors for this technique still require a thorough medical evaluation with a complete history and physical, multiple laboratory tests and a CT scan with 3D reconstruction to assess the anatomy of both kidneys. Donors should be at as low risk as possible for surgery with general anesthesia with no high blood pressure, diabetes or heart and lung problems. View slide show.