Offering Surgical Experience Plus Multidisciplinary Team Approach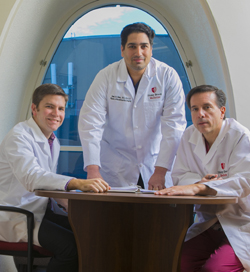 Hernias are a common health problem, with more than one million hernia repairs performed each year in the United States. Approximately 800,000 are done to fix hernias in the groin, and the rest are for other types of hernias in the abdomen.
Our Comprehensive Hernia Center — distinguished by Stony Brook Medicine's multidisciplinary approach to patient care — offers a wide range of options to diagnose and treat most types of hernias.
Our experienced hernia experts work together as a team to design the best treatment plan possible so patients can get back quickly to their normal lives and daily activities.
A hernia occurs when there is a weakness, or opening, in the muscle and connective tissue that surround the belly area. Patients may feel a slight bulge, discomfort, or pressure as organs push out through this weakness.
However, many patients may have this opening/weakness even if organs aren't actively pushing through. Over time, this bulge or area of weakness can grow in size. Occasionally, intestine can become trapped in the hernia, which requires emergency medical attention.
Hernia repairs done by experienced surgeons like ours provide the best results
with low recurrence rates and minimal post-op pain.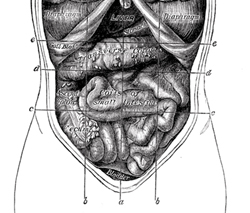 Some hernias are inguinal, which means they develop in the groin area. Another type is ventral hernias, which can start anywhere on the front of the belly wall. Some patients have incisional hernias, occurring at the incision site of a previous surgery or hernia repair.
Inguinal hernias are the most common type of hernia. They represent approximately two thirds of adult hernias, and are much more common in men than in women.
A strangulated hernia, in which the blood supply to the bulging part of the intestine is cut off, can be very dangerous, even fatal, and they are surgical emergencies. The incidence rate of strangulated inguinal hernias varies between 0.29% and 2.9%, and the mortality rate ranges between 2.6% and 9%.
Andrew T. Bates, MD, assistant professor of surgery and co-director of the Hernia Center, says: "There are several different ways to treat hernias effectively today. Our surgeons provide all of them for our patients.
"Our hernia surgeons work together with plastic surgeons and pain management specialists, so they can collaborate on the most suitable, individualized treatment plus follow-up care that helps patients recover with minimal pain and complications."
Some of our procedures use a mesh patch, made of synthetic or natural material, to close the gap where the hernia protrudes. Suturing the patient's own tissue back together, without the mesh patch, is another option (see FAQs about the Shouldice repair).
We also do hernia repairs that are minimally invasive, using the latest technology to limit surgical incisions and, thereby, speed recovery.
Consult us with any questions or concerns about hernia surgery and
recovery, before your hernia becomes an emergency.
Reconstructive plastic surgeon Sami U. Khan, MD, associate professor of surgery and co-director of the Hernia Center, adds, "The multidisciplinary collaborative approach we use allows us to offer our patients the most comprehensive clinical expertise for repair of everything from simple hernias to the most complex abdominal wall reconstructions."
"We encourage people to consult us with any questions or concerns they might have about hernia surgery and recovery, before their condition becomes an emergency," says Dr. Bates. "Our surgeons can help patients decide which of our many hernia repair options is the right choice for them."
Although "the first fix is the best fix," we are also highly skilled at treating patients who have a recurring hernia after having surgery somewhere else.
Emphasizing one of the benefits of our multidisciplinary team approach, Michael F. Paccione, MD, assistant professor of surgery and co-director of the Hernia Center, notes, "For patients who experience chronic groin pain after inguinal hernia repair — and it is estimated that at least 10% of patients have this problem — our pain management specialists provide a range of solutions."
Patients can see our hernia specialists at our Suffolk County offices in Centereach, East Setauket, Smithtown, and Commack. Every location offers a team approach, from experienced experts sharing their expertise and skills to deliver the most effective treatment.
For consultations/appointments with our hernia specialists, please call 631-638-0054. Visit the website of the Hernia Center for more information about it, plus all the members of our team.