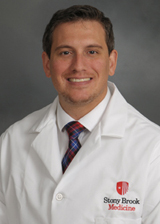 Obesity has become a national epidemic. During the past two decades, there has been a dramatic increase in obesity in the United States and rates remain high, according to the Centers for Disease Control and Prevention. More than one-third of U.S. adults (36.5%) and approximately 17% (or 12.7 million) of children and adolescents aged 2-19 years are obese.
To fight this epidemic, innovative technologies are now being introduced and reshaping the armamentarium of therapies to treat obesity.
Orbera, a non-surgical weight loss procedure, is one of the newly FDA approved weight loss treatments using "gastric balloons" placed in the stomach. It's currently being offered by our bariatric specialists at Stony Brook Medicine's Bariatric and Metabolic Weight Loss Center to adults who want to lose 30-50 pounds.
Here, Salvatore Docimo Jr., DO, MS, of our General/Gastrointestinal Surgery Service, answers questions regarding the new, non-invasive Orbera weight loss option.
Q: What is Orbera?
A: Orbera is a deflated silicone balloon that is placed, with the assistance of an endoscope (no surgical incisions, no significant recovery time), into a patient's stomach and then filled with saline solution.
Q: How does Orbera work?
A: The Orbera balloon works by taking up space in the stomach, helping the patient decrease their portion sizes. The program requires a 12-month commitment to diet and exercise from the patient. Our team of bariatric surgical specialists, nutritional experts, and medical staff will be with you every step of the way.
With Orbera there's minimal risk and no incision or downtime — FDA approved in 2015,
the device has had more than 20 years of successful use internationally.
Q: How long does the procedure take?
A: The Orbera balloon is delivered into the stomach with the help of an illuminated optical, slender tubular instrument called an endoscope. No incisions on the belly are needed. The balloon is then filled with saline. The procedure typically takes about 20 to 30 minutes to complete. The patient will be able to go home the same day.
Q: How long does the balloon remain in the stomach?
A: The balloon is removed six months after placement, but the lifestyle changes the patient committed to prior to the procedure and after it will help in the continued weight loss.

Q: Who is a candidate for the Orbera balloon?
A: Patients should have a body mass index (BMI) of 30 kg/m2 to 40 kg/m2 and be medically cleared to undergo the procedure (online BMI calculator). They must also be able to commit to the entire program which is 12 months long. Orbera is currently not covered by insurance.
Q: What can a patient expect from the 12-month program?
A: Our entire team is dedicated to developing an individualized program for each patient that will create and support lifestyle changes, such as improved nutritional and exercise habits. These positive habits will be promoted before placement of the Orbera balloon, and continued after it is removed in order to ensure weight loss is maintained.
Q: How much weight can I expect to lose?
A: Clinical trials have shown that patients who underwent a six-month program with the Orbera balloon lost three times more than those who followed a program of diet and exercise alone.
Q: What is the advantage of having the Orbera balloon placed at Stony Brook Medicine?
A: The Bariatric and Metabolic Weight Loss Center at Stony Brook Medicine was the first program to place an Orbera balloon in Suffolk County. Stony Brook's weight loss program is ranked among the nation's top programs in outcomes data and accredited by the Metabolic and Bariatric Surgery Accreditation and Quality Improvement Program. We are continually advancing both the surgical and non-surgical methods of weight loss treatment through various clinical trials for novel devices.
Learn more about the Orbera weight loss option. Watch this video (1:36 min) to see how Orbera works: