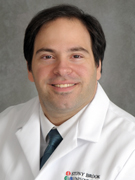 Director: Michael Guido, MD
---
The mission of the Vascular Neurology Section is to provide neurologic care for stroke patients, including patients who have received surgical or thrombolytic procedures to limit stroke-associated brain damage.
Cerebrovascular diseases are disorders in which an area of the brain is temporarily or permanently deprived of blood flow due to blockage of a blood vessel (ischemia) or rupture of a blood vessel (hemorrhage). Conditions that lead to such blockage or rupture include atherosclerosis, blood clots traveling to the brain from elsewhere, arteriovenous malformations, and aneurysms.

Stroke treatment depends on the type of stroke. Some ischemic strokes can be treated by methods designed to remove, dissolve, or bypass a clot in a blood vessel while hemorrhagic strokes are treated by attempts to stop the bleeding in the brain, control high blood pressure, and reduce brain swelling. Tissue plasminogen activator (tPA) is a medicine that dissolves blood clots causing brain arterial blockage. The sooner it is administered after an ischemic stroke the better, and it must be administered within 4.5 hours after the time the patient was last known to be normal. In some stroke patients, it may be possible for a neurosurgeon or interventional radiologist to use a catheter device to physically remove a clot that is blocking a brain artery.

The Vascular Neurology Section is a component of Stony Brook Medicine's Cerebrovascular and Stroke Center. This Center, designated a Primary Stroke Center by the Joint Commission on Accreditation of Healthcare Organizations (JCAHO), is staffed by a multidisciplinary team of neurologists, interventional neuro-radiologists, and cerebrovascular neurosurgeons who are committed to excellence in patient care, research, and education, and have the expertise needed to diagnose and treat a wide range of cerebrovascular diseases. The Center has received a "Gold Plus" award from the American Heart Association every year since 2010, recognizing delivery of stroke care in accordance with key performance guidelines. In 2015 the Center additionally received "Target: Stroke Honor Roll - Elite Plus" recognition, and logged its own record "door to needle" time (time elapsed from arrival of a stroke patient at our emergency room to administration of tPA) of 21 minutes. To achieve such rapid patient management, which including patient transport, full medical assessment and completion of a head CT scan, many different professionals including emergency room nurses and doctors, hospital staff, radiologists, and Stroke Center personnel have to function as a highly synchronized team. Time is brain – each minute a brain is deprived of oxygen and nutrients due to ischemia, many neurons (by one estimate, typically 1.9 million neurons!) are lost.

The Stroke Center is actively engaged in many clinical trials supported by four clinical research coordinators. As a result our patients have access to a wide variety of devices that are currently experimental but are available on a "compassionate use" basis to patients who have otherwise untreatable conditions. The Center's support staff, physician assistants and administrative assistants, are dedicated to continuing to aid stroke patients through follow-up imaging and treatments.