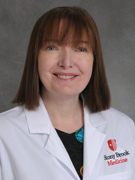 Director: Patricia Coyle, MD

---

Stony Brook's Adult Multiple Sclerosis Center was established in 1990 to provide state-of-the-art cutting edge treatment and management of MS. The Lourie Center for Pediatric MS was the first multidisciplinary center in the U.S. dedicated to addressing the specific needs of pediatric patients with multiple sclerosis (MS). It is one of six nationwide Pediatric MS Centers of Excellence designated by the National Multiple Sclerosis Society.

Internationally recognized experts provide the best evaluation, neurologic care and recommendations for children and adults. The Center fosters a rigorous research program that could lead to finding the answers to this puzzling disease.

Multiple Sclerosis (MS) is the major acquired neurologic disease of young adults. It affects the central nervous system (CNS), both the brain and spinal cord, and most people develop MS between the ages of 15 and 50. Relapsing MS involves neurologic attacks where deficits are noted consistently over several days to weeks before improving. Progressive MS involves gradual worsening, most often inability to walk, which occurs over months to years without recovery.

There are many current treatments available and tremendous new advances to come. Stony Brook provides the opportunity for individuals to participate in cutting edge research as subjects in clinical trials.

Recent Research Includes:

New therapies for MS
Disease biomarkers
Central nervous system repair strategies
Experimental neuro-imaging techniques
Cognitive & fatigue impairment
Cerebrospinal fluid studies

In addition, the neuro-immunology Section provides diagnosis and treatment for other immunological diseases of the nervous system including Lyme's disease, and viral or bacterial meningitis.