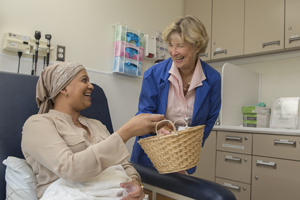 As a Stony Brook University Hospital Volunteer, you will
Serve the community
Meet people who work in all areas of healthcare
Have the opportunity to supplement educational programs
Learn new skills
Share a generosity of spirit
Assignments are tailored to the talents, abilities, interest, and availability of each volunteer to fulfill specific needs at the Medical Center. No experience or special skills are required other than a sincere desire to be of service and a willingness to work under supervision.
Volunteers can work in a variety of capacities and in many different departments throughout the Medical Center. Click here to view available volunteer positions.
As a general rule, volunteers are assigned to work at regularly scheduled times each week, between the hours of 8:00am and 8:30pm. Junior Volunteers are not permitted to work after 7:00pm and no more than 16 hours per week.
Volunteers at Stony Brook University Medical Center choose their volunteer assignments from a list of over 60 different assignments that are available in the Medical Center.