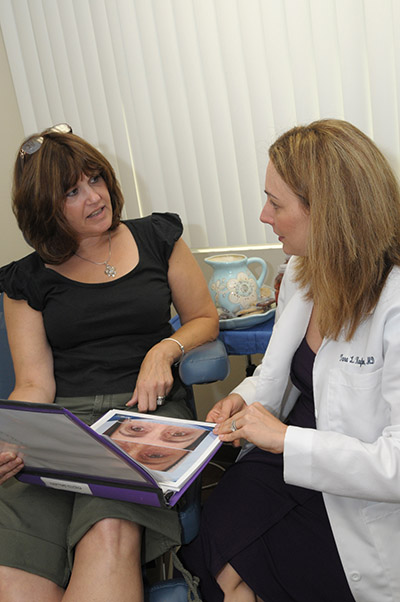 MEDICAL DERMATOLOGY
Medical Dermatology entails the diagnosis and treatment of diseases of the skin including eczemas, rashes, hives, psoriasis, acne, skin infections, blistering conditions and hair loss. Specific interests of the department include acne, atopic dermatitis, alopecia areata, cutaneous T-cell lymphoma, drug eruptions, psoriasis and immunological blistering diseases (Pemphigus, Pemphigoid). Dermatologists are trained to treat patients of all ages so it is a misnomer that children under the age of 18 should only be seen by pediatric dermatologists. Patients with common pediatric skin problems can be cared for by any of our physicians. However, our practice is home to two wonderful pediatric dermatologists.

Visit our Physician Specialties Page for a more robust understanding of what the Department of Dermatology specializes in.
PEDIATRIC DERMATOLOGY
The Pediatric Dermatology service is run by Dr. Leonard Kristal & Dr. Robert Hayman, physicians who are widely published and nationally recognized experts. The practice includes treatment of, but is not exclusive to, atopic dermatitis, acne, hemangiomas, genetic and congenital skin disorders.
CUTANEOUS ALLERGY
Cutaneous allergy includes diagnosis and treatment of allergic reactions of the skin as well as atopic dermatitis. Cutaneous allergies are diagnosed by patch and prick testing. The department has the most comprehensive patch testing clinic on Long Island supervised by Dr. Marcia Tonnesen.
DERMATOLOGIC ONCOLOGY
Skin cancer evaluation, diagnosis and treatment are a central part of the dermatology service, to which all faculty members devote much of their effort. Multiple treatment options are available including Mohs micrographic surgery which is performed as an outpatient procedure in our new state-of-the-art Mohs Unit. Melanoma is addressed by a multidisciplinary group that includes Dermatology, Medical Oncology, Surgical Oncology and Pathology. Dr. Adam Korzenko is the Director of the Pigmented Lesion Center and sees patients at the Cancer Center every Friday afternoon in the surgical oncology unit.
MOHS MICROGRAPHIC SURGERY
Mohs surgery is the most effective and advanced treatment for skin cancer today. It offers the highest potential for cure, even if the skin cancer has been previously treated by another method. Mohs surgery treats skin cancer through a highly specialized and precise technique that removes the cancer in stages. It involves surgically removing skin cancer layer by layer and examining the tissue under a microscope until healthy, cancer-free tissue around the tumor is reached (called clear margins). Because the Mohs College surgeon is specially trained as a cancer surgeon, pathologist, and reconstructive surgeon, Mohs surgery has the highest success rate of all treatments for skin cancer – up to 99%.
The Mohs unit is directed by Dr. Evan Jones who has completed specialized training for this procedure alongside Dermatologic Surgery. We have recently welcomed Alumni Jordan Slusky, MD., Mohs Surgeron, Cosmetic Dermatology, Clinical Dermatology, and Associate Residency Program Director.
COSMETIC PROCEDURES
Cosmetic procedures performed in the Department include a full range of facial rejuvenation techniques from Botox and dermal fillers such as Radiesse & the Restylane family of products to skin resurfacing using new cutting edge technology e.g. CO2RE laser by Syneron, the Gentlemax hybrid by Candela & others. This enables us to provide a wide range of cosmetic-specific dermatologic treatment. Dr. Tara Kaufmann and Dr. Adrienne Haughton are certified and trained in cosmetic dermatology and have an ever growing loyal patient base.
PHOTOTHERAPY
The department has a state-of-the-art narrow band UVB / UVA phototherapy box for the treatment of psoriasis, vitiligo, chronic itching, cutaneous T-cell lymphoma (CTCL) and certain other skin diseases. Phototherapy treatments are conducted & monitored by Deborah Deierlein, our nurse practitioner. The Phototherapy service is directed by Dr. Marcia Tonnesen who has many years of clinical experience in this area.