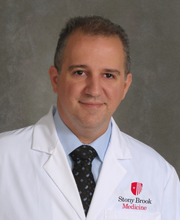 Community service at Stony Brook takes all forms. For Dr. Antonios Gasparis, Professor of Surgery in the Division of Vascular Surgery, it recently came in the form of a fundraiser for a Greek church.
Dr. Gasparis organized a concert to raise funds for the Hellenic Rythmos dance group's annual performance. A well-known singer from Greece performed at the Port Jefferson Greek Church of the Assumption for more than 400 people, raising $15,000 to be used to purchase costumes for dancers to compete in Greek folk dancing next year.
The costumes are handmade in Greece and shipped here for the young dancers to wear. About 40 dancers between the ages of 6 and 14 will perform in Maryland next year, with groups based on age. A total of 800 people are expected to attend.
"It's more for the kids to learn Greek dance," Dr. Gasparis said. "My wife is a teacher who put together the dance groups."