Best-selling author, legendary journalist, producer and breast cancer survivor Linda Ellerbee inspired a crowd of 200 women with her message that "change is a form of hope" at Stony Brook Medicine's 4th annual Women's Health Day Conference on Oct. 15.
The conference was a half-day event at the Marriott Melville Long Island hotel, featuring breakout sessions led by 20 Stony Brook Medicine experts and a keynote address by Ellerbee. She told of the challenges and changes she has faced over her lifetime, including humorous anecdotes from her personal experiences in both career and relationships.
Ellerbee's dry wit drew laughter when she told of her trials as a young divorcee and her entry into the world of journalism. She shared her struggles with breast cancer and her trailblazing efforts as a female journalist in the 1970s.
Her career achievements include award-winning television producer, writer, anchor and best-selling author of "And So It Goes: Adventures in Television." She retired in December after 28 years running Lucky Duck Productions, which produced a wide variety of programs all across the television spectrum, but was best known for its award-winning Nick News series and children's specials for Nickelodeon.
At Women's Health Day, Stony Brook Medicine experts educated attendees on topics that women care about most, gave them opportunities to ask questions, and gave them useful tips on how to improve their health. Breakout sessions provided health education on topics such as the connection between breast cancer and heart disease, menopause, pelvic floor disorders, nutrition, circulation problems, and strength straining.
Since 2013, Women's Health Day has brought inspirational keynote speakers and health education to nearly 800 women across Long Island.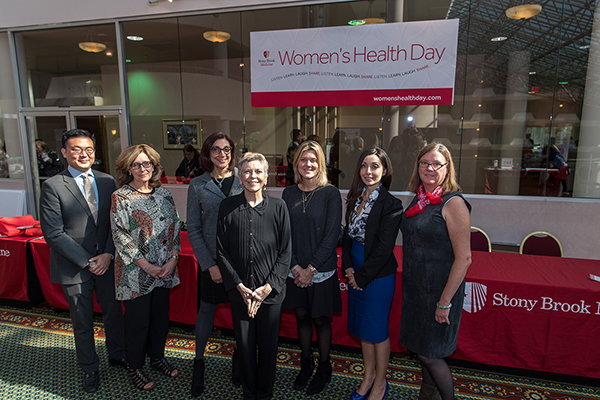 Jason Kim, MD; Arlene Kaelber, MD, FACOG; Lauri Budnick, MD, FACOG; Linda Ellerbee; Janet Trabosh, PA-C, MPH; Angela Kokkosis, MD; Patricia Farrelly, MD.