March marks National Colorectal Cancer Awareness Month. Radiologist Dr. Matthew Barish shares what you need to know about virtual colonoscopy.
I'm procrastinating on getting a colonoscopy — are there any other options?
Yes. In recent years, virtual colonoscopy, an alternative to the traditional colonoscopy, has emerged as an option for most patients. It is less invasive, carries lower risks and allows patients to get back to their lives immediately after the exam. In addition, virtual colonoscopy has a far gentler prep than previously, so there is no reason to put off this potentially lifesaving screening test if you are over age 50 or are considered at higher risk for colorectal cancers.
What is a virtual colonoscopy?
Virtual colonoscopy (also known as CT colonoscopy or CTC) is a safe, highly accurate minimally invasive CT imaging examination of the entire colon and rectum. It is a well-tolerated exam that takes about 10 minutes to complete. Its goal is the same as that of traditional colonoscopy: to identify polyps and cancers in the colon. Polyps have been shown to be the precursor of most colon cancers, and the goal of virtual colonoscopy is to find these potentially dangerous polyps before they become actual cancers. Patients undergo a bowel preparation similar to colonoscopy. Patients lie comfortably in a CT scanner on their right side and a small, extremely flexible thin tube is inserted into the rectum. Carbon dioxide is slowly added into the colon. The patient rolls onto their back and is scanned for 14 seconds. Patients turn to their side and are scanned for an additional 14 seconds. Patients can then immediately go home or back to work.
What are its risks and benefits compared to traditional colonoscopy?
Traditional colonoscopy is most often performed with sedation, which requires each patient to have a chaperone following the procedure. In addition, sedation is associated with additional risks and may be problematic in patients with lung disease, cardiac disease or prior reactions to sedation. Virtual colonoscopy does not require any sedation, and therefore patients can drive themselves to and from the procedure and immediately return to work. Unlike traditional colonoscopy, virtual colonoscopy uses only a small very flexible tube with only the tip inserted, which essentially eliminates the risk of colon perforation and complications. At the end of the exam, the carbon dioxide used to distend the colon is removed, giving patients immediate relief. In addition, virtual colonoscopy involves minimal radiation exposure, thanks to the current scanners and techniques. An additional benefit of virtual colonoscopy is the ability to detect some other existing but unsuspected medical problems, including aortic aneurysms, cancers of abdominal organs, and a variety of other conditions.
Am I a candidate for virtual colonoscopy?
According to guidelines endorsed by the American Cancer Society in 2008 and other national medical groups, screening for colon cancer utilizing a technique that examines the entire colon — either traditional colonoscopy or virtual colonoscopy — is recommended for average risk individuals beginning at age 50. Virtual colonoscopy is appropriate for all patients who are candidates for colon cancer screening. It is especially useful for patients at risk to undergo traditional colonoscopy (lung or cardiac disease, or people on blood thinners or who are unable to be sedated) or who have had a prior incomplete colonoscopy.
What kind of results can I expect?
Ninety percent of average risk patients who undergo virtual colonoscopy will have no polyps detected and will not need further testing. These patients should return for routine screening in five years. Ten percent will have one or more polyps detected and will need to undergo traditional colonoscopy to remove the polyps. In some of these patients where the risk of undergoing colonoscopy may be greater than the risk of leaving the polyp in place, short-term follow up with repeat CT Colonography in three years may be recommended. Virtual colonoscopy finds the polyps that matter, ignoring small polyps (5 mm or less) that are unlikely to become invasive cancer.
Where can I get a virtual colonoscopy?
Right in your own community, at Stony Brook Medicine. In fact, you may be comforted to know that the software used to read virtual colonoscopy in the landmark research paper published in 2003 by New England Journal of Medicine (NEJM) was invented at Stony Brook and continues to be used today. In fact, Dr. Barish was one of the contributors to this pioneering technology. He serves as the Director of the International Symposia on virtual colonoscopy and is the Director of the American College of Radiology (ACR) Training Program in CT Colonography (CTC) responsible for training radiologists to perform this technique. All radiologists reading CTC at Stony Brook have been certified and received a certificate of proficiency from the ACR.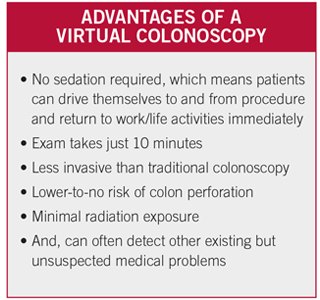 For additional information or to schedule a virtual colonoscopy, call (631) 444-9250.
All health and health-related information contained in this article is intended to be general and/or educational in nature and should not be used as a substitute for a visit with a healthcare professional for help, diagnosis, guidance, and treatment. The information is intended to offer only general information for individuals to discuss with their healthcare provider. It is not intended to constitute a medical diagnosis or treatment or endorsement of any particular test, treatment, procedure, service, etc. Reliance on information provided is at the user's risk. Your healthcare provider should be consulted regarding matters concerning the medical condition, treatment, and needs of you and your family. Stony Brook University/SUNY is an affirmative action, equal opportunity educator and employer.