The impact of bariatric surgery can be life changing. How do you choose the program right for you? Surgeons Aurora Pryor, MD, and Dana Telem, MD, provide insight into the work being done at the nationally accredited Bariatric and Metabolic Weight Loss Center – and some of the factors that make the program, and its physicians and other health professionals – unique.
What's the key to success in obesity treatment at Stony Brook?
We offer patients options among the most advanced and effective weight loss procedures available: although we offer many options, most patients select either the Roux-en-Y gastric bypass or sleeve gastrectomy. We also have a great track record of long-term success. But it's important to recognize that surgery is just one tool among many. Our success is due to a comprehensive and interdisciplinary program tailored to the individual – and the patient's commitment to the program is important, too.
Besides an excellent surgery program, what distinguishes Stony Brook's bariatric services?
We not only provide comprehensive, individualized services – such as diet and exercise plans, medical management, counseling, behavior modification and group support – but they're also delivered by highly qualified, credentialed professionals who are experts in their field. For example, all the clinical psychologists and the dietitian/nutritionists associated with our program have PhDs or master's degrees plus years of experience. Other programs simply do not offer that level of expertise. And as part of an academic medical center, we collaborate with Stony Brook physicians across multiple departments as needed – endocrinologists, plastic surgeons, sleep disorders specialists and many more.
We also emphasize education and follow up – making sure you understand each component of your care and how to optimize your success. Follow up with weight maintenance of course is a lifelong process.
Another success factor is our dedicated bariatric inpatient unit. It offers customized furnishings and equipment designed to promote safety, comfort and a quicker recovery for patients receiving weight loss surgery.
You've been described as leaders in your field. Why is it relevant to choosing a weight loss surgery program?
We not only comply with high professional standards, we help set those standards for bariatric and endoscopic surgeons nationwide. Dr. Pryor serves on the executive council of the American Society for Metabolic and Bariatric Surgery (ASMBS) as well as on the governing board of the Society of American Gastrointestinal and Endoscopic Surgeons (SAGES). For patients choosing an elective surgery, it helps to know their doctors are highly respected by colleagues for the breadth and depth of their knowledge.
Why are you involved in teaching the next generation of bariatric surgeons?
As a physician-educator for 17 years, Dr. Pryor has trained 25 surgical fellows and directed dozens of courses at professional meetings nationally. Both Drs. Pryor and Telem oversee Stony Brook's fellowship program in advanced laparoscopic surgery and in bariatric surgery for surgeons seeking more in-depth learning after standard surgical training. Teaching some of the best and brightest young minds in medicine helps keep us on our toes and offer you the latest in innovative care.
What role do you play in advocating for improved medical interventions?
Dr. Pryor has testified before the FDA about clinical trial design and bariatric devices. As chair of the Emerging Technologies Committee for ASMBS, she tracks alternative weight loss procedures that may one day provide a viable alternative to surgery.
What are you doing in terms of research in bariatric surgery?
Dr. Pryor holds patents on several inventions that improve bariatric surgical techniques and is working in collaboration with engineering groups and other clinical science departments at Stony Brook on new medical devices and technologies. Dr. Telem has a special interest in surgical outcomes and is a founder and the director of the Surgical Outcomes Analysis Research (SOAR) Collaborative, which applies clinical and population-based research.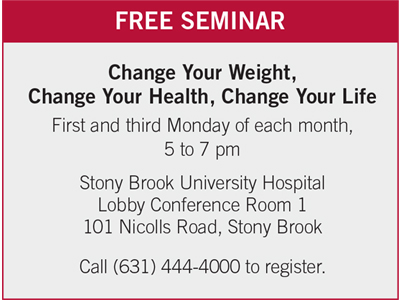 All health and health-related information contained in this article is intended to be general and/or educational in nature and should not be used as a substitute for a visit with a healthcare professional for help, diagnosis, guidance, and treatment. The information is intended to offer only general information for individuals to discuss with their healthcare provider. It is not intended to constitute a medical diagnosis or treatment or endorsement of any particular test, treatment, procedure, service, etc. Reliance on information provided is at the user's risk. Your healthcare provider should be consulted regarding matters concerning the medical condition, treatment, and needs of you and your family. Stony Brook University/SUNY is an affirmative action, equal opportunity educator and employer.